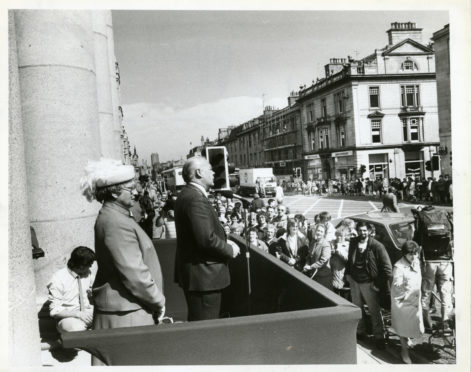 He's one of the most famous figures in the history of global science.
And the pioneering achievements of James Clerk Maxwell laid the groundwork for everything from Einstein's theory of relativity to the creation of modern electronics.
However, a new book about the Scot has revealed his hitherto secret past as a driving force in the construction of the famous Music Hall in Aberdeen's Union Street during Maxwell's time as a professor in the Granite City.
The young Victorian was a key member of the British Association for the Advancement of Science organisation and was determined to persuade them to stage its annual meeting in the north east.
So he was thrilled when it was agreed that the 1859 convention would be held in Aberdeen. But there was a glitch: the city (which only had a population of 35,000 in these days) had no venue which was suitable for the sort of large-scale lectures and discussions which were arranged at the event.
None the less, this didn't deter the protagonist of Brian Clegg's work "Professor Maxwell's Duplicitous Demon" and he set about making sure that Aberdeen created an auditorium which was worthy of hosting major occasions.
As the author said: "With Maxwell among its shareholders, the Music Hall Company set to work on the rapid construction of a spacious venue in Union Street.
"The imposing 50-foot-high internal space was capable of seating 2,400 people and is still a major feature of the cityscape today.
"And the British Association of Science meeting, which was opened by Prince Albert, was a huge success."
However, there was a curious backdrop to the story, with the Music Hall Company continuing to send dividends from its proceeds to Maxwell at the long-defunct Marischal College through to the early 1900s, long after his death.
Indeed, this led to the lawyers responsible for dealing with the payments eventually placing an advertisement in what is now the Press & Journal, asking for "Mr James Clerk Maxwell to come forward".
As Mr Clegg added: "They were entirely unaware of either his fame or his demise [from cancer] in 1879 at the age of just 48."