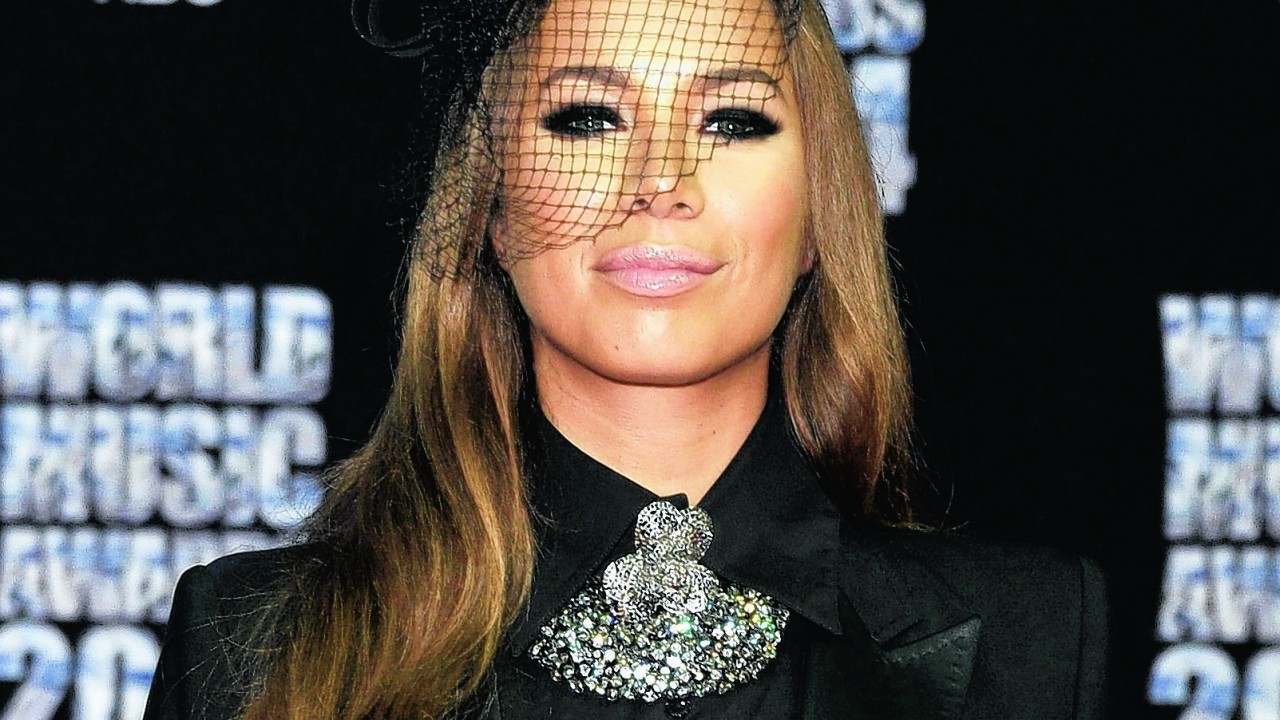 Leona Lewis may have recently severed ties with Simon Cowell's record label Syco Music, but there's no bad blood between her and the media mogul.
"Not at all," she insists. "Simon is always going to be instrumental to me and he's so supportive of what I've been doing publicly and privately. I'm really happy about our time together," says the 29-year-old, who was signed to Syco following her win on The X Factor in 2006.
Some tabloids claimed she'd been dropped but, while nonchalantly popping grapes into her mouth, Lewis maintains it was a mutual decision.
"He helped me launch myself, so I owe a lot to him. And he said that I helped launch the show and excel it because they produced a real artist, so I think it's a mutual gratitude, really."
She's now signed to Island Records and is "ready for the next phase".
"They're all about creative freedom and bringing out what the artist wants to do naturally. It's not over A&R'd (artists and repertoire, the industry department responsible for talent development), it's organic and that's what I feel I want right now," explains Lewis, immaculately made-up and wearing slim-cut trousers with a camisole and jacket.
And that's not all that's going on. She's also making her acting debut in the musical Walking On Sunshine (released in cinemas on June 27).
Filmed in Puglia, Italy, and set to the greatest hits of the Eighties, it's directed by Max Giwa and Dania Pasquini, who helmed the StreetDance movies, and stars Gemma Arterton's younger sister Hannah as Taylor, as a young woman coming to terms with her sister marrying her holiday romance.
"It's crazy," says Lewis, who plays Taylor's friend Elena. "I did the film last year, but obviously it's out now, so it seems to everyone like it's happening at the same time. But to me, it's been in phases."
Born in London, Lewis grew up with two brothers ("They helped me be quite tough") and attended the likes of the Italia Conti Academy and The Brit School, where she did a spot of acting and musical theatre.
Seven years after her X Factor win – in which time she sold over 20million albums and singles worldwide, and became a multi-millionaire – she felt the time was right to "seek out a part, as I really wanted to be in a musical".
"I just wanted to see if there was anything out there I could get involved in, and then this came along. I had to audition just the same as anyone else."
Lewis cringes as she recalls the experience. "I remember sweating, I was so nervous. I came out of the audition and my mum and dad were supposed to pick me up, but they weren't there. I started walking and tripped over in the street and the directors were behind me. It was so embarrassing. I was like, 'No, that's it, it's gone. They think I'm crazy'."
This from the girl who performed in front of billions at the 2008 Beijing Olympics closing ceremony. "An audition is scarier because it's one-on-one. It was intense, so intense."
It hasn't put her off doing more acting though. If anything, it's spurred her on.
"I like that feeling. It makes me feel like I'm alive, that nervousness. It's not a negative nervousness, it's a positive energy and I think it's good to change it up and get out of your comfort zone," she says, blue eyes sparkling.
Not that she's giving up singing any time soon, not only because of that new deal, but "it's what I do and love".
Though known for her big power ballads on stage, away from the spotlight, Lewis likes nothing more than a good rap.
"I love rapping," she admits, laughing. "People get so annoyed with me. I have this thing where as soon as a song comes on, I go online, get all the lyrics up and I rap along to it. I don't know why, it's kind of weird."
Nicki Minaj and Jay-Z are favourites, so maybe she could duet with Beyonce's other half?
"No, no, never. Never in a million years," she exclaims, waving her hands. "I'd never rap publicly."
Next year marks her 30th birthday. "There are so many new phases going on, I've not really got my head around that. It doesn't really affect me, it's just another number," she says, shrugging.
But she is feeling more confident the older she gets.
She was only 21 when she won The X Factor and admits "I definitely had a lot of influences when I won the show".
It helped she'd been working the circuit since her teens.
"I'd been in the studio a lot before then and been around the industry a little bit. But there were definitely a lot of people pushing me in a lot of different directions, and I can truly say Simon was the one person who was like, 'We need to do what's you and really stick to that'."