 Two men were airlifted to hospitals in the Highlands yesterday afternoon after falling several hundred feet in separate accidents on north mountains.
A 25-year-old skier was flown to Raigmore Hospital in Inverness after falling up to 300ft down a steep slope in the Cairngorms and a climber was taken to Belford Hospital in Fort William after sliding "a few hundred feet" in the Red Burn area of Ben Nevis.
A Royal Navy helicopter, from HMS Gannet, Prestwick Airport, was initially called to the Lochaber incident. It was then summoned to the Cairngorm rescue.
John Stevenson, leader of Lochaber Mountain Rescue Team, said a climber fell on Ben Nevis and another person, who went to assist him, also fell and slightly injured himself.
He said: "We got a call at about midday to a man who had fallen on the Ben at around the 2,500ft mark. Other people saw him falling and called it in.
"It turned out he had taken a big slide on the snow slope in the Red Burn area, which is really quite steep, and he slid a few hundred feet.
"He had done a lot of damage to himself, badly skinning his fingers while trying to stop himself on the way down."
Mr Stevenson said they asked for assistance from Rescue 177. However, the helicopter could not reach the injured climber because he was in a difficult position so it flew six members of the rescue team on to the mountain.
He said: "The team members packaged him up and the helicopter did a high-line winch.
"He was conscious, but he had hand injuries and a fair bit of bruising. Hopefully he's OK."
The helicopter then flew to the Cairngorms where an extreme skier had lost control on a technical winter climbing route, known as Aladdin's Couloir at about 2.30pm.
Cairngorm Mountain Rescue Team leader Willie Anderson said the 25-year-old man had been ski-ing with another man when he fell up to 300ft.
He said: "The skier struck his head on some rocks. He was wearing a helmet, but the helmet split and he suffered a head injury.
"He was in and out of consciousness for about an hour.
"The team put him on a vacuum mattress to protect his spine and the helicopter winched him up and flew him to Raigmore."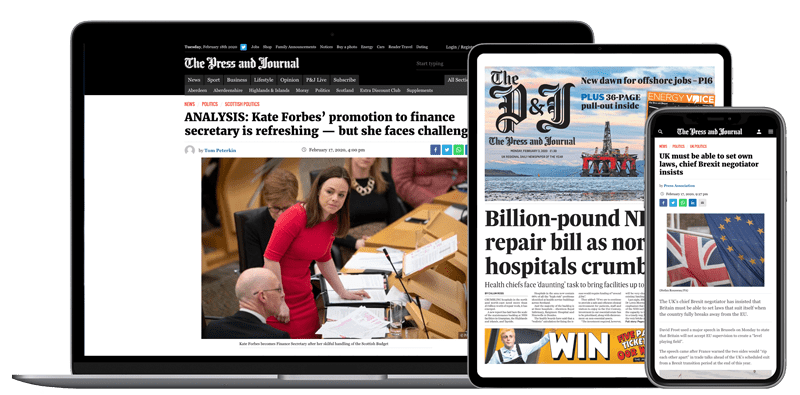 Help support quality local journalism … become a digital subscriber to The Press and Journal
For as little as £5.99 a month you can access all of our content, including Premium articles.
Subscribe