 Sitting in Finzean Estate's tearoom looking out over the valley, you fully understand why the Gaelic for it is "the fair place", and why so many of the residents remain to trace their ancestry back to this land and this timeless place.
Nestled in the Grampian hills, eight miles from Banchory, Finzean Estate has been in the Farquharson family since 1580 and is now run as a partnership by brothers Donald and Andrew Farquharson.
The estate stretches across nearly 10,000 acres (4,000 hectares) of farmland, hill and woodland, and includes 40 properties – including holiday lets – and seven very long-term tenanted farms.
Andrew, who works on and manages the estate, says that a sense of community is something that drives the Finzean valley, as well as many of the estate decisions.
On their land, the Farquharsons have established sheltered housing, low-cost housing sites for young people and community woods and pathways as a local amenity.
The estate's award-winning farm shop and tearoom employs 24 local people, stocking produce from its farms and hills, as well as food and gifts from local suppliers within a 30-mile radius of its doors.
According to Andrew's sister-in-law, Catriona, who runs the shop with Andrew's wife, Kate, little extras like a Post Office counter and daily newspapers for sale keep the 200-plus a day customers coming back.
"We sell venison shot on Peter Hill and butchered on the estate, rabbit and game birds – mostly pheasants, but also pigeon, duck and grouse," said Catriona.
"The prime cuts of venison always sell first – the loin and fillet – but the haunch and mince are also popular. Rabbits are prepared whole but skinned and the birds are all sold oven ready, whole or breasted."
Home-produced beef from the home estate's 165-cow suckler herd – this is mainly grass and barley-fed Simmental, Limousin and Aberdeen-Angus – is slaughtered at Inverurie and sold through the shop and tearoom.
Catriona said the rest of the produce is sourced from small-scale, mostly rural producers, who have the "same principles and ethos as us" – these include artisan cheesemakers, fruit and vegetable growers, a local brewery and pork from a local farmer.
"We also produce our own Finzean Estate venison, beef, chutneys and preserves, home-baked bread and cakes as well as a range of artisan ready meals. We also sell various deli products, plus a range of books – many by local authors – and a small range of gifts, cards and paintings."
Kate said the menu in the tearoom has remained relatively unchanged since it opened in Easter 2006.
She said: "At the heart of the menu we use our own home-reared beef, wild venison and game, creating proper homemade, tasty meals. We cook breakfasts to order and serve traditional afternoon teas from 3.30pm."
The firm menu favourites are Andrew and Donald's mother Alison's Victoria sponge, of which around 3,000 slices are sold a year.
"Our other top sellers are the Finzean quiche of the day, homemade Finzean beef or venison burger served in a homemade roll, and a simple bowl of soup with a sandwich," said Kate.
Service and food has won the estate a number of awards.
"We are a VisitScotland four-star shop and VisitScotland Taste our Best Quality Assured, we won the Trend Magazine Award for fine dining in the tearoom category in 2010 and 2012, and were one the last three national finalists in the Taste of Scotland category at the Scottish Thistle Awards in 2007. In addition, we were voted a Trip Advisor Certificate of Excellence 2013 winner," added Kate.
Looking ahead to the estate's future, Andrew said that they have three core philosophies driving their decisions and management – the local community, managing and maintaining the Scottish countryside and championing Scottish food and tourism.
"We are lucky to live in a particularly active community where the residents feel very much part of Finzean and that is what makes this part of Deeside so special," he said.
"Key to our future is that we have a duty to keep our countryside beautiful and allow access for others to enjoy it, which is something we take very seriously and will preserve for generations to come."
Jane Craigie is chairwoman of the British Guild of Agricultural Journalists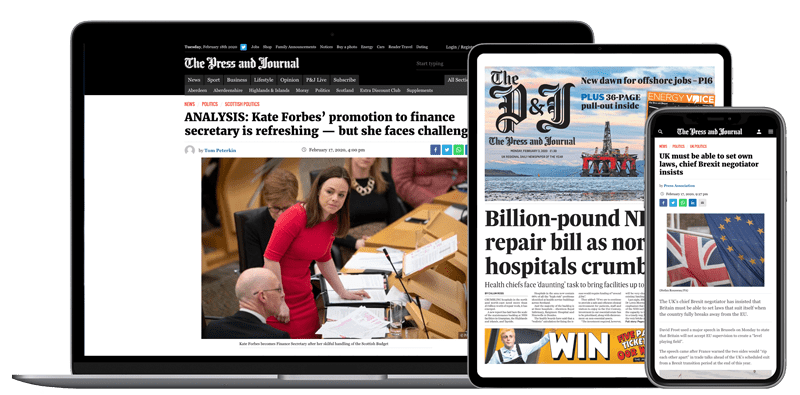 Help support quality local journalism … become a digital subscriber to The Press and Journal
For as little as £5.99 a month you can access all of our content, including Premium articles.
Subscribe