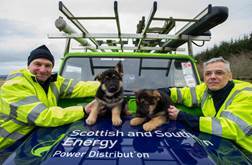 Two puppies have been named after the engineers who went above and beyond to save them from freezing to death during a winter storm.
Scottish and Southern Energy (SSE) workers Bill Collie and Keith Hay raced to help the German Shepherd pups after their desperate owners called for help in a blackout.
And yesterday, the pair were reunited the puppies – including the two named after them after them in thanks for their efforts.
Geoff and Sharon Hutley panicked when the power to their farmhouse at Mulben, near Keith, went off in a storm in January – just a day after their litter of puppies was born.
Already some of the litter had died, and as temperatures plummeted the owners pleaded for power suppliers SSE to restore power.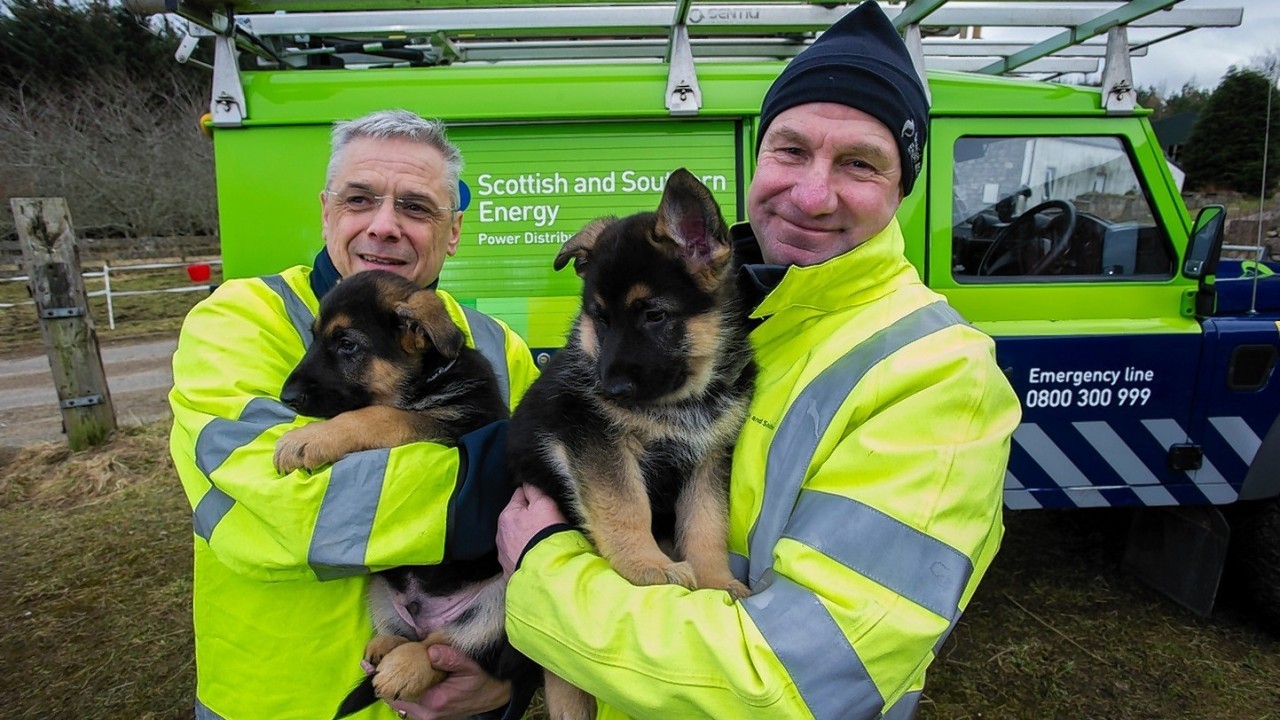 Mrs Hutley said: "We woke up on the morning of the storm with no electricity and the house was freezing.
"We'd already lost four pups from the litter within hours of them being born the day before and the thought of losing any more was unbearable, but it was the reality we were faced with.
"We had the puppies all wrapped in blankets with a hot water bottle next to our wood burner, but it was still too cold and I really didn't think that they would survive much longer.
"When my husband called SSE's customer services to report that the power was off we hadn't even thought about asking for help with the pups.
"But when the operator asked if we had any concerns, he mentioned the situation we were in with the puppies.
"The operator herself wasn't even sure what she could do, but she promised to speak to an engineer."
The operator contacted SSE's Elgin depot, and soon after engineer Mr Collie and site manager Mr Hay rushed to the Hutleys' home with a generator and heat lamp.
Mr Collie said: "I spoke to Mr Hutley on the phone and I could hear how hopeless he felt the situation was for the remaining puppies.
"Initially Keith and I weren't sure how we could help, but when we checked and found we had a generator available we knew we had to get it to the farm before any more of the litter was lost.
"We're genuinely delighted to have these two named after us and it's great to see them now, fighting fit and ready to go on to their new homes."