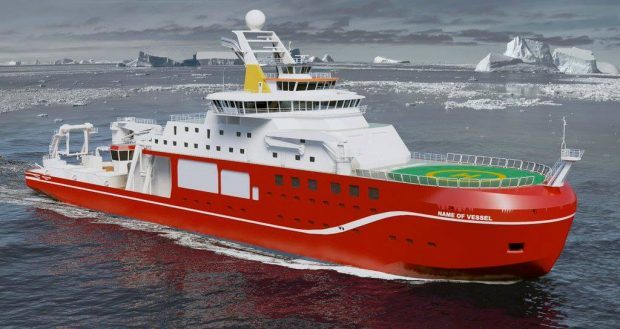 The Natural Environment Research Council (NERC) are looking for the public to name a new £200m Royal Navy polar research vessel.
So of course the frontrunner is: " RRS Boaty McBoat Face".
The suggestion is by far the leader in this online poll to name the ship – which closes next month.
Organisers are looking for something to reflect the pioneering work it'll undertake.
Other suggestions include Endeavour and David Attenborough.
Some have made the case for RRS Dr John Rae – an explorer from Orkney who discovered the fate of the Franklin expedition and was vilified by Victorian society because of it.
The outcome of Lady Franklin's efforts to glorify the dead of the Franklin expedition meant Rae was shunned somewhat by the British establishment. Although he found the first clue to the fate of Franklin, Rae was never awarded a knighthood, nor was he remembered at the time of his death, dying quietly in London. In comparison fellow Scot and contemporary explorer David Livingstone was buried with full imperial honours in Westminster Abbey.
In July 2004, Orkney and Shetland MP Alistair Carmichael introduced into the UK Parliament a motion proposing, inter alia, that the House "regrets that Dr Rae was never awarded the public recognition that was his due".
In March 2009 he introduced a further motion urging Parliament to formally state it "regrets that memorials to Sir John Franklin outside the Admiralty headquarters and inside Westminster Abbey still inaccurately describe Franklin as the first to discover the [North West] passage, and calls on the Ministry of Defence and the Abbey authorities to take the necessary steps to clarify the true position."
In June 2014, it was announced that a plaque dedicated to Rae would be installed at Westminster Abbey.
In June 2011, a blue plaque was installed by English Heritage on the house where John Rae spent the last years of his life, No. 4 Lower Addison Gardens, Kensington.
In 2013, the process of establishing a group to promote the achievements of John Rae commenced. This group, calling itself 'In John Rae's Company' was first virtually established as a Facebook group on 5 January 2013. A petition calling for the issuing of a commemorative postage stamp was launched by Orkney International Science Festival.
After a conference in Stromness, Orkney to celebrate John Rae's 200th Anniversary, in September 2013, a statue was erected to Rae at the pierhead. In December 2013, The John Rae Society was formed in Orkney to promote Rae's achievements.