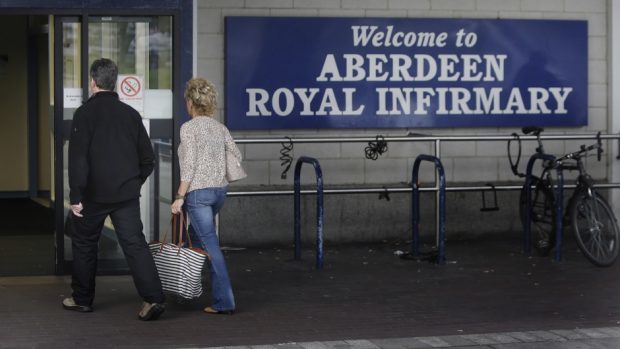 A woman who saved the life of an Aberdeen dad who suffered a cardiac arrest at the weekend has been dubbed a "true hero".
James Lawie collapsed while in the R S McColl shop at the junction of Union Street and Belmont Street on Sunday afternoon.
Paramedics were immediately called to the scene, but in the minutes before they arrived a woman, who did not wish to be named, intervened and administered CPR treatment to the 56-year-old joiner.
And paramedics say that the emergency treatment is likely to have saved the Torry man's life.
Mr Lawie is currently receiving treatment at Aberdeen Royal Infirmary following the incident.
Last night his son Rory, 34, said he was recovering well from the ordeal and is expected to be allowed home soon.
He said that without the help of the woman, who is understood to be a nurse from England who had been visiting Aberdeen, his dad would be dead.
He said: "He was on his way into town, away for a pint, and he had just gone into the shop when he went into cardiac arrest.
"Without a doubt this woman saved my dad's life. I owe her everything, I'm completely overjoyed.
"The odds of a nurse, who knows CPR, being there at the right place at the right time are unbelievable.
"I'm not a religious man, but this woman was truly a godsend, she's a true hero.
"I think more folk should learn how to do CPR, because there's not going to be a nurse there every time somebody falls over.
"I've started learning it myself watching videos on YouTube, everyone should give it a bash and find out how to do it, because it could save someone's life – it saved my dad's."
James Cant, the director of British Heart Foundation Scotland said: "It's fantastic to hear that this gentleman's life was saved because a bystander knew what to do and acted straight away.
"When someone has a cardiac arrest their chances of survival decrease with each passing minute.
"The more people who are trained in what to do in the event of a cardiac arrest, the more lives we can save in the future."
To find out more about CPR visit www.bhf.org.uk/cpr