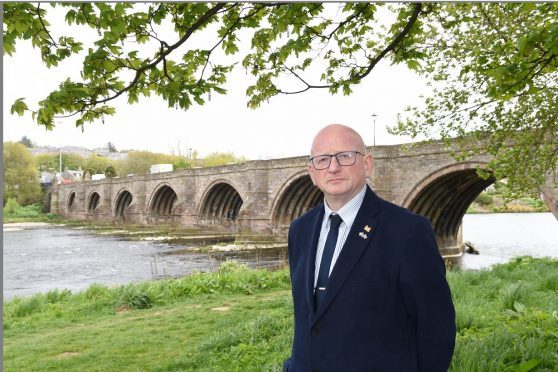 A Conservative councillor in Aberdeen has launched a blistering attack on an SNP manifesto commitment to build a new bridge over the River Dee.
The nationalists have put the new crossing at the heart of their manifesto as they seek to become the biggest party after the local authority elections in May.
Three options have been put forward for the new link, including a dual carriageway link road between Garthdee Road and the A90 Aberdeen to Dundee route.
A new arch crossing, alongside the existing Bridge of Dee, has been chosen by the SNP as their preferred option.
But Alan Donnelly, who is seeking re-election for the party in Torry and Ferryhill, described the plan as "hopeless and pathetic".
Cllr Donnelly, who also serves as the Labour-led administration's vice finance convener, said: "I don't think they should be desecrating a 16th century bridge – I will fight against that with all I can.
"The SNP constantly berate our administration for going over time and budget and then have the gall to put forward a proposal that could cost between £12 and £18million.
"Large amounts of compulsory purchase would be needed to progress the plan.
"This is a hopeless and pathetic manifesto commitment – they were clearly looking for something that would get them a cheap headline."
SNP group leader Stephen Flynn responded that a bridge alongside the existing Bridge of Dee was the best available option.
He added: "I believe a bridge adjacent to the current structure is the only sensible route forward and it is regrettable councillor Donnelly did not voice his concerns at committee less than three weeks ago.
"Instead, he agreed with my suggestion that officers investigate the option of a four-lane bridge adjacent to the current structure.
"I'm sure the good folk of Garthdee, and indeed RGU, will make sure that councillor Donnelly, and indeed the Tory candidate for the area, are well aware of the implications of his preference for A90 traffic to be routed right through the heart of their community.
"Ultimately, I am left wondering whether Cllr Donnelly actually has enough backbone left to oppose anything given that he has spent the last five years propping up the Labour Party."