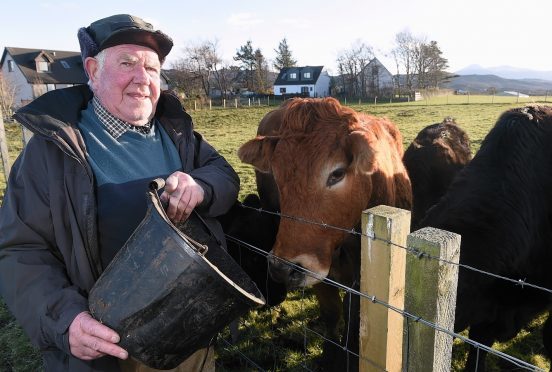 A farmer has been locked in a compensation row with railway bosses after a valuable cow was killed after being hit by a train.
The five-year-old beast, valued at just under £2,500, was killed on the Inverness to Kyle line near Plockton in July last year.
Farmer John MacLennan believes the cow, which was on common grazing land at Strathie, was able to get onto the line because of poorly maintained fences along the side of the railway.
The cow was independently valued at just under £2,500 by an auctioneer at Dingwall Mart after its death.
But Network Rail has denied liability, saying the animal had wandered from its field.
Mr MacLennan's uncle Duncan MacLennan, also a crofter, said: "We feel we've been messed about ever since. They (Network Rail) ignore letters, phone calls, emails, everything."
He added: They have done nothing for us but now they've taken out a contract to repair the fences which we take as an admission of negligence.
"It's a five-year-old beast and a substantial part of a crofter's livelihood, and that's not taking into account any calves she may have had."
Local MSP Kate Forbes has backed the MacLennans and has written to Network Rail asking for compensation to be paid out.
The SNP MSP has also urged the agency, which is responsible for maintenance of rail infrastructure, to accelerate trackside improvements on the Kyle line.
She has been told that two miles of fencing is due to be upgraded in April – but she said this shows the fence at present "is not to scratch".
Ms Forbes said: "I have spoken to the local farmer, who informs me that his cow was valued at almost £2,500 by the head auctioneer at the Dingwall mart.
"That is a considerable sum of money for farmers on the west coast.
"I also understand that a number of other farmers have lost livestock due to a similar issue.
"Against this backdrop, I believe that Network Rail should conduct a review into whether all of their fences across the Highlands are suitably maintained.
"It's not fair that farmers are having to take on a David and Goliath fight to try and get compensation from Network Rail for the loss of their animals, through no fault of their own."
A Network Rail spokesman said: "We invest significant sums each year renewing fencing along our linesides in Scotland.
"We regularly inspect all of our lines putting plans in place for repairs where required. Anyone with concerns about our infrastructure and fencing can raise them by contacting our 24-hour public helpline on 03457 114141."