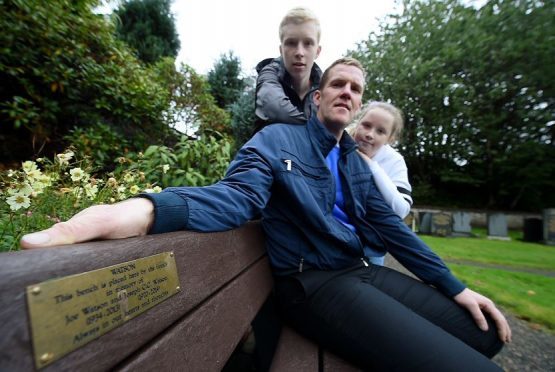 The family of the late Press and Journal farming editor Joe Watson has unveiled a bench to commemorate him and his father.
Mr Watson, who died in 2014, was for many years the paper's highly respected agriculture chief.
Outside of his work, Mr Watson spearheaded a campaign to tidy up Turriff's cemetery where his father is interred.
After his death, Mr Watson's brother, Fraser, picked up the reins and now heads up the Friends of Turriff Cemetery committee with other like-minded volunteers who give up their time to ensure the burial ground is a comfortable place for others to pay their respects.
Now the Watsons have unveiled their own seat in memory of Joe and his father, also called Joe, who died in 2013. The family were joined by the Friends group and local councillors in a short dedication service led by Fraser Watson and Reverend Kevin Gruer.
The bench is situated in the centre area of the cemetery.
Last night, Mr Watson said: "This is a bench that's dedicated to my brother and my father. Just this afternoon, I was speaking to a local woman and she said the cemetery is becoming a more pleasant place to visit.
"People can feel peace and calm, either on their own bench or on one of the others. It's a comfortable place to sit and reflect."
Mr Watson explained that his brother had turned his attention to tidying up the cemetery after their father was buried there.
He added: "Joe was quite upset with the state of the cemetery when my father passed away. They were two good Turriff men and I want them to be remembered that way."
Last year, the Mary Salmond Trust donated £500 towards the Friends' effort to install benches on the site.
Since the group formed, local tradespeople have come together to offer their services to maintain and improve the cemetery.