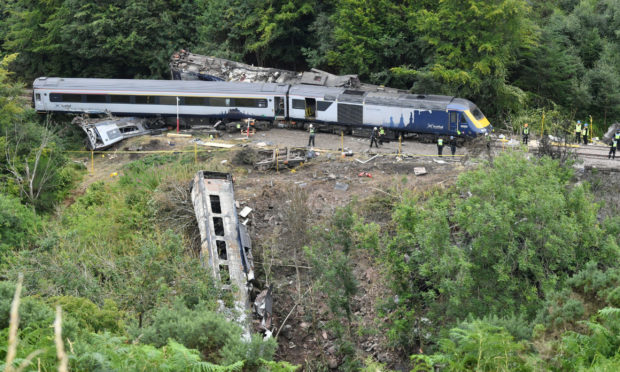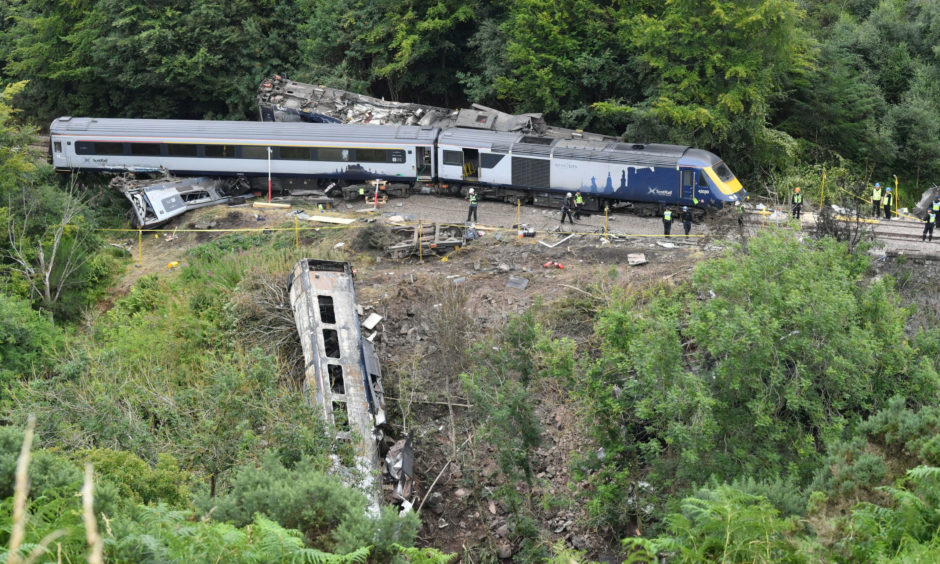 A union chief has raised concerns over the circumstances leading up to the fatal derailment of a passenger train near Stonehaven.
The General Secretary of the Transport Salaried Staffs' Association (TSSA) union said they had written to the Rail Accident and Investigation Branch (RAIB) seeking clarification of events – and in particular seeking clarity on Network Rail's procedures.
The accident occurred on August 12, when a Scotrail train hit a landslip near Carmont, west of Stonehaven, following severe rain.
Of the nine people on board, driver Brett McCullough, 45, conductor Donald Dinnie, 58, and passenger Christopher Stuchbury, 62, were killed and six were injured.
In his letter, the TSSA's Manuel Cortes said he does not wish to speculate about the events of the derailment, but outlines a number of questions relating to what happened.
He asks: "On the day of the accident at Carmont, weather conditions across much of the east coast of Scotland were atrocious, with flooding in places like Stonehaven.
"Aberdeen services were mostly cancelled but one question has to be why all trains were not stopped?
"Why were certain services allowed to continue and not others?"
Mr Cortes goes on to enquire "whether Network Rail and its contractors have carried out – or plan to carry out – any remedial work around the site of the accident given the issue with landslips?
He adds: "More broadly, will the accident report make recommendations about whether Network Rail has sufficient funds and staff to be able to carry out such work, given it manages 190,000 earthworks assets?"
The union boss is also seeking answers about when obstructions on the line were reported, what emergency speed restrictions were in place, as well as whether the driver had a chance to apply the emergency brake.
A Network Rail spokesman said: "We are doing everything we can to support the ongoing RAIB investigation so that we can properly establish the circumstances that led to the derailment and understand what can be done to prevent such a tragedy happening again.
"Our network is still one of the safest in Europe and we are investing heavily in Scotland's railway to improve our earthworks and drainage systems."
In an initial report released last week, the RAIB said there had been thunderstorms in the area, with two inches of rain falling within the space of four hours – about 70% of the average total monthly rainfall in Aberdeenshire in August.
The high-speed train had been operating the 0638 service from Aberdeen to Glasgow.
It was initially stopped at Carmont at 6.59am, after a northbound train reported a landslip further south, on the section of track between Carmont and Laurencekirk.
After sitting at Carmont for more than two hours, and unable to proceed south, the driver was given permission to move north at 9.25am, with the derailment occurring 13 minutes later, at 9.38am.