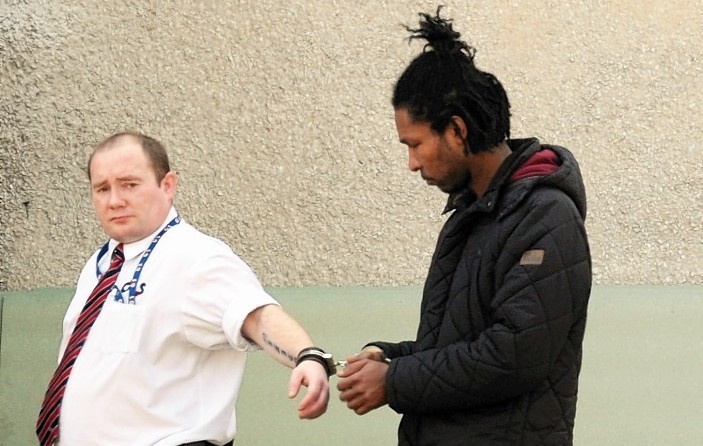 A man who travelled to Aberdeen to act as a live-in chef for a gang of drug dealers has been jailed.
Cintron Sinclair was caught by officers trying to escape off a balcony of a flat after they raided 12 Porthill Court, Aberdeen on March 2 last year.
Inside the property, police found 10 packages of cocaine wrapped up inside a box and hidden in a bed.
The packages of the class A substance were worth a combined maximum street value of £20,500.
Thousands of pounds in cash and two machetes were also found inside the flat.
Yesterday, Sinclair appeared at Aberdeen Sheriff Court to be sentenced having previously admitted being concerned in the supply of the drugs.
However his solicitor, John McLoone, insisted that he had only been "babysitting" the illicit substances for the main gang leaders.
The court heard Sinclair had been sleeping on the sofa inside the property when he awoke to a loud banging on the door.
Mr McLoone said his client was scared, knowing the drugs were in the flat, that it could have been members of a rival gang coming to get him.
He said as a result he grabbed some of the cash and made a dart out of the balcony, however he was caught leaving the building by police who had arrived to carry out a raid.
Mr McLoone said Sinclair had arrived in Aberdeen to act as a chef for those involved in dealing the drugs.
He said it was never his intention to have anything directly to do with the cocaine.
The court heard that those mainly involved in dealing the drugs had left him "babysitting" the property and its contents that day.
Mr McLoone said Sinclair was not aware of the exact value of money or drugs inside, but he accepted that he knew the packages of cocaine and cash were there at the time he was in the flat.
Sentencing Sinclair, of 72 Gladstone Road, Oxford, Sheriff Graham Buchanan said: "I have had regard to everything that has been said on your behalf by Mr McLoone and I note that it wasn't your intention to be directly involved in the supply of controlled drugs. But a guilty plea to such offences, particularly of class A substances, has to be treated very seriously.
"My position here is that in this case, not withstanding the fact that you have no previous convictions, it is clear to me only a custodial sentenced is appropriate."
He was sentenced to 22 months in jail.