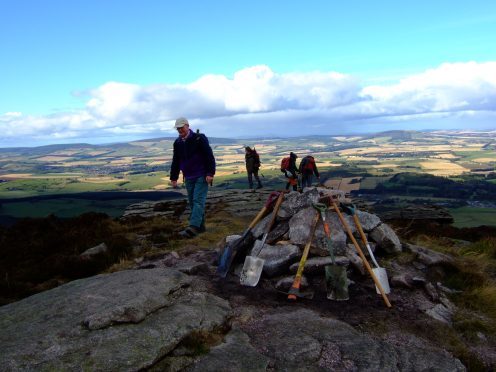 Thieves have stolen hundreds of pounds worth of tools from a voluntary group dedicated to looking after a well-loved landmark.
The Bailies of Bennachie were shocked to discover the culprits had stolen more than £700 worth of equipment, including spades, bow saws and mattocks, from their storage unit.
The group works throughout the year to conserve and promote the habitat, and promote Bennachie.
Without their vital tools, the group is now appealing to members of the public to help ensure they can carry out their work again in the spring.
Volunteers Mick Taylor and Harry Leil discovered the break-in at the Chapel of Garioch shed on Monday.
Mr Taylor said: "We do not undertake work on the hill in January so had not been to the shed for a few weeks.
"We are very disappointed to find that all our tools had been stolen, we work on the hill because we care about it."
Chairwoman Jackie Cumberbirch confirmed they had contacted the police as soon as they discovered the break-in.
She added: "It was very shocking to discover we had been broken into as nothing like this has ever happened before – annoyingly because we are all volunteers this is going to be a real set back.
"Now we need to get new tools – our work for spring will have to be delayed – we need to get funding to replace what has been lost.
"It would be fantastic if people are able to donate any amount of money so we are able to replace the stolen goods and get going again.
"The Forestry Commission has offered to allow us to borrow tools for now – but it's just a real shame that this has happened, especially to an organisation that is all volunteers.
"We will be heightening our security where tools are stored to avoid anything like this happening again in the future."
A police spokeswoman confirmed the break-in was reported on Monday, and that officers are investigating.