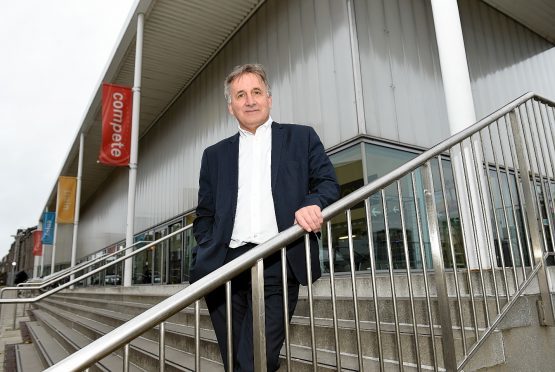 Eight-and-a-half years ago, George Yule was standing in a hut in the grounds of the original Chris Anderson Stadium, trying to imagine a world class sports centre in its place.
At the time, the vision for Aberdeen Sports Village (ASV) was simply drawings on paper – and a pledge by Aberdeen University and the city council to create a high quality venue open to all.
From its humble beginnings, ASV has grown into one of the premier sports centres not just in the north-east of Scotland, but the entire UK.
And its Olympic-standard facilities have attracted some of the world's leading athletes to train in its grounds.
Yesterday, sports village chairman Mr Yule said he was "immensely proud" of what it had evolved into, and that he could not imagine his hometown without it.
But the successful businessman, who is also vice-chairman of Aberdeen FC, also revealed that the time had come for him to step down, and to leave the future of the charity in someone else's hands.
"It will be surreal for me not to be involved, and I'm sure it will feel the same for my colleagues," he said.
"But I have a wife and young family to think of who have been very tolerant with me so far, and a full-time job at Pittodrie.
"For me, personally, it's the right thing to do after more than eight-and-a-half years, and it's the right thing for the sports village in the long term."
Mr Yule became involved with ASV in 2007 – two years before it would officially open – after he was recommended by old Aberdeen Grammar School friend Marshall Byers, who had initially been approached about the job.
"Marshall said – 'that sounds great, but I'm based in Hong Kong'," explained Mr Yule.
"But he said 'I do know a man in Aberdeen for the job though'."
Mr Yule – himself a keen sportsman – joined the project as a director, but was quickly asked if he would like to be more involved, given his credentials.
"After the first board meeting, I was asked if I would be prepared to chair it," he said.
"I had a full-time job, and said 'I can't do this'.
"A couple of meetings later and I saw the scale of work ahead of us. I was asked again – and I said I would do it."
When ASV first opened, it employed 44 people.
"Fast forward to 2015 and we have in excess of 240 staff," said Mr Yule.
"I remember saying at the time we have got a fantastic facility here, but what we must ensure is that we back this up with fantastic people who can deliver a first class service.
"That's exactly what we have done, and we have been overwhelmed by the success of it.
"As a business, we had budgeted on having around 2,5000 members. Today, we have more than 8,000 annually."
Mr Yule said there were too many incredible moments during his ASV tenure to mention them all, but added that the official opening by football legend Denis Law had been a highlight.
He said he was proud the centre had been used by both Scotland's national rugby and football teams for training sessions.
It also served as a training camp for the Cameroon Olympic team prior to London 2012, while the Aquatics Centre was used during the 2014 Commonwealth Games.
When the idea of building a 10-lane, Olympic-size pool was first suggested, the board faced "significant pressure" from people concerned about finances to build just eight lanes
"When the tenders came in, the difference between eight and 10 lanes was incremental," said Mr Yule.
"We had to think about this as a generational project, and to ensure we gave the area the best. It now means the elite can have the best facilities to train in.
"But it's more than that – it's also about giving the entire population of the area a world class facility no matter their health or fitness.
"One of the most pleasing things for me is seeing more than 100 Evergreens, as I call them – over-60s – in the games hall doing their exercises, their Zumba.
"And it's when I see thousands of little kids using our facilities when the weather outside is awful, and I just think 'where else would they go?'.
"It's hard to imagine Aberdeen without it."
Modest Mr Yule is quick to stress that the success of ASV is not down to just his tenacity, but also the efforts and dedication of the board, the university, the local authority and sportscotland, the national agency for sport.
He revealed he started thinking about stepping down about 18 months ago when his father was diagnosed with dementia.
However, former ASV chief executive Dave Beattie had also announced his intention to step down, and Mr Yule knew it would have been "wrong for me to go at the same time".
He led the recruitment process to find new chief executive Duncan Sinclair, who he described as he "best man for the job".
And he is confident the board will choose the right person to fill his role.
Mr Yule will chair his final board meeting on December 11.
"That's when it will probably hit me that I'm actually stepping down," he said.
Mr Yule said it was not an easy decision to make, but that the death of his father two months ago had "forced the issue".
"It's a tough one for me, as it's been like giving birth to a kid and watching it grow," he said.
"And without wanting to sound arrogant, the board has asked me not to go, but I know it's the right thing to do.
"My only regret is that my father is not around now to take advantage of the time I would have had for him."
Last month, Mr Yule's friend Mr Byers – the man who kick-started his ASV experience – came back to the north-east for a visit.
The pair made a trip to the sports village at Linksfield Road so Mr Yule could show him the huge success it has become.
"As we walked around the finished article, he said to me 'the boy's done good'," he said.
"He is obviously taking some of the credit for this himself."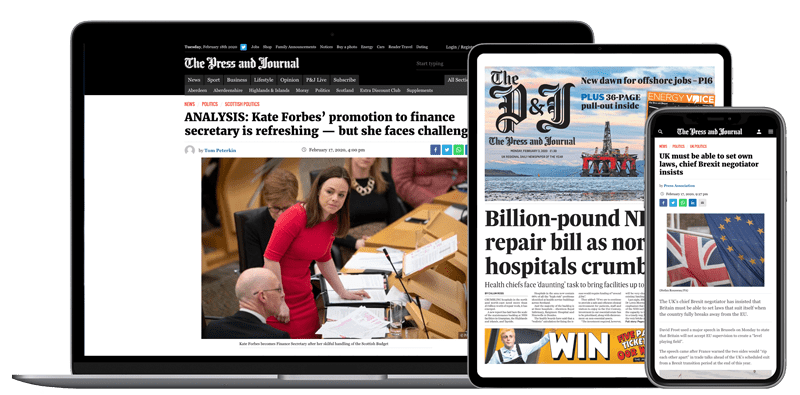 Help support quality local journalism … become a digital subscriber to The Press and Journal
For as little as £5.99 a month you can access all of our content, including Premium articles.
Subscribe