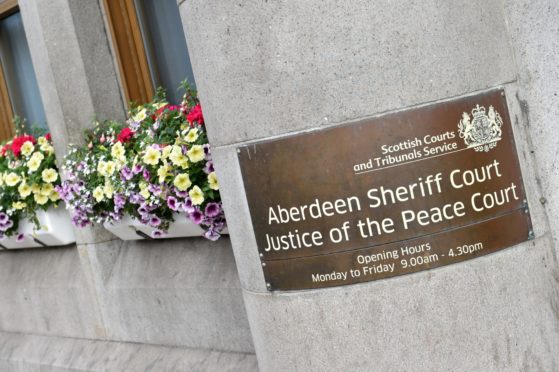 A dangerous driver came close to hitting playing children as he hurtled down roads and pavements in a 4×4 during a high-speed police chase in Aberdeen.
Lewis Welsh mounted the kerb and raced away from officers who were pursuing him through the streets of Northfield.
The 26-year-old had been asked to pull over by officers, but evaded their attempts to blockade his car, almost hitting pedestrians and other vehicles in the process.
He appeared at Aberdeen Sheriff Court yesterday having previously admitted eight driving offences.
He first came to the attention of police on Sunday, May 12 last year, when officers spotted him behind the wheel of a white Vauxhall Tiguan, which was linked to another matter.
They signalled for him to pull over on Granitehill Road, but he continued to let the vehicle creep forward.
As officers again told him to stop the car, Welsh reversed suddenly in an attempt to escape them.
Fiscal depute Brian Young said: "He harshly accelerated onto the pavement and took off at speed.
"There were numerous pedestrians within their respective gardens in close proximity."
Welsh returned to the road and raced through the neighbouring streets, continuing at "excessive speeds" as he undertook other cars and drove on the wrong side of the road.
Mr Young noted that the area also had many "parked cars and playing children" who had been enjoying the sunny Sunday afternoon.
When Welsh was stopped, officers found he had been driving while disqualified and without insurance.
He was again apprehended for these offences on June 2, when officers in an unmarked car happened to find the Tiguan directly in front of them during a routine patrol.
Welsh was caught driving without insurance and while disqualified for a third time on June 20, this time in a Vauxhall Astra.
Solicitor Ian Hingston explained that Welsh has since found full-time employment and said there had been a "huge sea change" in his attitude since the time of the offences.
"This was a series of really ridiculous decisions and he accepts there will be penalties," he added.
Sheriff Margaret Hodge credited Welsh, of Kingswalk in Bucksburn, for "turning his life around" before fining him £600 and imposing an 18 month driving ban.
She said: "This was an extremely dangerous course of driving that put people at risk."