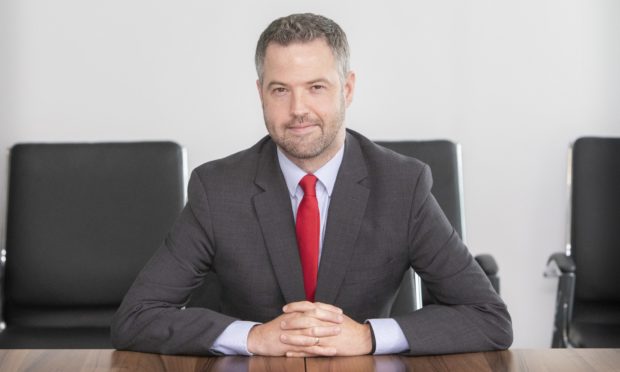 Bereaved families could be "locked out" of their loved one's estate "for months on end" due to coronavirus backlogs in the legal system.
Aberdein Considine is predicting that a "substantial" number of cases will face delays, as only essential cases are currently being heard in courts.
It says this has caused other proceedings to "ground to a halt", and warned that it could be months before the system is running at full capacity once more.
The input of a sheriff is required in order to wind up a person's estate and distribute their assets to beneficiaries.
The process is known as confirmation in Scotland and probate in England, and gives an executor the authority to carry out the necessary proceedings.
James MacKinnon, a partner at Aberdein Considine, said: "The passing of a loved one is upsetting for those left behind and the thought of having to deal with the often complex process of winding up the estate can be daunting.
"This is being made ever-more complex by the current restrictions in place to shield people from Covid-19.
"We have been inundated with work since the outbreak, particularly around matters involving wills, powers of attorney, and estate administration.
"While innovative ways of working have allowed much of this to proceed as normal, the closure of courts to all but essential business has halted the winding up of estates."
The law firm is urging families to continue with the legal process surrounding estate administration in order to prevent any additional delays further down the line.
Mr MacKinnon added: "The backlog is already substantial and, sadly, will continue to grow as the tragic Covid-19 death toll increases.
"The delays could be even longer for people who died without leaving a will.
"In these cases, a beneficiary of the estate will need to apply to court to be appointed as executor before the application for confirmation can even begin."
Despite the current restrictions, many aspects of the legal work required to wind up someone's estate can still continue.
This includes gathering an inventory of the deceased person's assets, such as property, cash accounts, land, pensions and insurance policies.
Aberdein Considine says being prepared ahead of time will likely help the process to run more smoothly in the future.
Mr MacKinnon added: "We understand that confirmation cases will be heard in the order that they are filed, once courts re-open to non-essential business.
"This means that the earlier a confirmation application is submitted, the more likely it is to be granted in a reasonable timeframe."
A spokesman for the court service said it is in the process of restarting commissary business, which includes the execution of estates.
Further guidance on this is expected to be published this week.
A spokesman said: "We worked with the Law Society of Scotland to identify and prioritise extending the urgent and essential business being undertaken by courts and have responded positively to concerns regarding commissary work and the effect of delay on bereaved families."