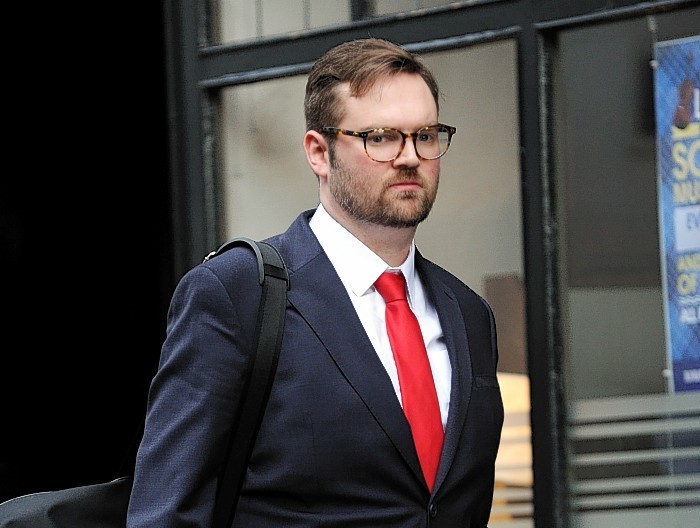 A trainee doctor has been put on the sex offenders register after admitting possessing child porn – and offering to pay for the sexual services of a teenager.
Kieran Titheridge appeared at the High Court in Aberdeen yesterday and admitted committing the offences over a five-year period.
The award-winning former Aberdeen University student, who was among the top in his class, had the indecent images and videos of children while at a flat in Union Grove in the city.
He also admitted being in possession of the illicit material while at his home in South Street, Arbroath, between June 18, 2008, and November 20, 2013.
Also at the Arbroath address, between October 14, 2012, and December 28, 2012, Titheridge intentionally "obtained the sexual services of a child or children" by making or promising money for their services.
Court papers state that the child was under the age of 18 and that he "did not reasonably believe the child was 18 or over".
He was originally charged with obtaining the sexual services of a child aged under 13.
Prosecutors have still not identified who is responsible for the Skype account he made contact via and the child or children abused by Titheridge have still not been traced.
Titheridge was facing two other charges, which included taking or permitting indecent images of children to be taken at a flat in Union Grove, Aberdeen, and the address in Arbroath.
He was further accused of being in possession of the images with a view to them being shown or distributed and was due to stand trial yesterday.
However the Crown accepted his not guilty pleas to these charges.
Representing Titheridge yesterday, advocate David Moggach asked Lord Kinclaven to release his client on bail overnight.
The judge is due to hear an agreed narrative of the facts today.
Mr Moggach said his client was "well aware" of what was likely to happen to him, but he wanted to "put his affairs in order".
Lord Kinclaven said: "As long as he is under no illusion that the court will have a custodial sentence uppermost in their mind."
The court heard Titheridge was single and living at home with his family.
He refused to comment as he left court yesterday.
Last night, a spokeswoman for NHS Grampian said Titheridge had not been working for the health board but did spend time there as a trainee working with geriatrics in 2013.
She declined to say where he had been working.
It is believed he was suspended from the profession in December 2013.
In the academic year 2010-11, while in his fifth year at university. he received the Elective Adviser's Medal, which is awarded to the students who submit the most meritorious projects.
He was also awarded a distinction in his first year which is given to the "top students" of the year.