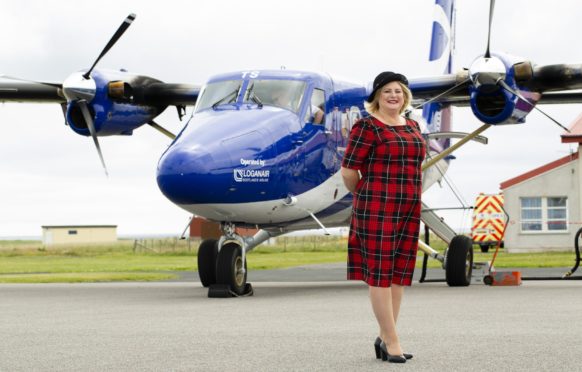 One of Loganair's longest-serving employees has marked a ruby anniversary at the helm of the airline's operation on the Isle of Tiree.
57-year-old Ishbel MacKinnon, or Tish as she is known locally, has been employed at Loganair's station since July 1979 – when the airport served around 4,000 passengers a year.
Mrs MacKinnon took over her job at the helm from her late father, Archie MacArthur who headed up the airport between 1960 and 1990 as an employee of British Airways.
Being a regular in her father's workplace as a youngster, official duties commenced when she stepped in as holiday cover during term breaks while completing a childcare course in Glasgow.
The father and daughter duo shared duties for 11 years – with Mr MacArthur even famously working the morning of his daughter's wedding.
After her father's retirement in 1990, Mrs MacKinnon was promoted to senior customer services manager, responsible for Loganair's operation in Tiree – which last year welcomed around 12,000 passengers.
Mrs MacKinnon said: "It's a really rewarding job and the fact I've been in post for 40 years shows how much I enjoy it.  The air service is really important to residents of Tiree, used by locals going on holiday or to visit relatives, but also for trips to hospital, weddings, honeymoons and occasionally even funerals.
"One of my favourite perks is being the first person to meet new-born babies as they arrive back on the island after leaving hospital in Glasgow, which is actually the exact journey I took whenever I first arrived in the world, and when I gave birth to my three children.
"I've also met lots of celebrities, politicians, nobility and musicians who visit Tiree throughout the year.
"With the number of customers passing through the airport increasing yearly – as Tiree's popularity continue to grow among tourists, I look forward to welcoming visitors to the island for many years to come."
Kay Ryan, Loganair's commercial director said: "I'd like to extend a huge congratulations to Tish, from everyone at Loganair, for such an amazing service record with the company.
"Tish is the face of airline in Tiree, often the first person to greet visitors from around the world while also supporting the local community with all of their travel plans.
"Her knowledge and passion for the job is fantastic and I can only thank Tish who is an integral part of the Loganair family."