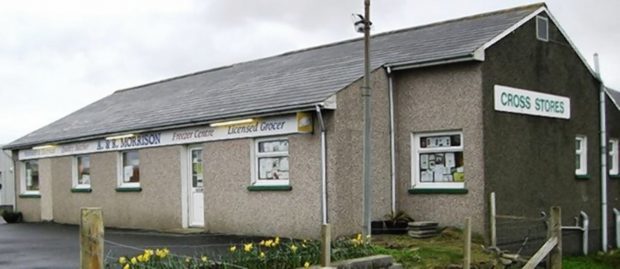 It is a peaceful corner of Lewis where trust is everything.
But last night, Ness residents were 'devastated' after what is believed to be the first burglary in the area for decades.
Cross Stores had only been taken over by Paddy and Johanna Furey a few weeks ago.
The shop had been run for many years by Alasdair and Rona Morrison.
Police Scotland confirmed that the shop had been raided and the crime reported yesterday (Wed).
"We have received a report of a break-in at a commercial premises in the area, but are unable to give more details at this stage," said a spokesman.
The police confirmed that a quantity of money and tobacco products were stolen in the raid. The value has not been disclosed. Police added that it believed it had no other report of a burglary in the area in its records.
Another store on Lewis – Buth an Rubha at Point near Stornoway, 25 miles away – was broken into overnight on Friday. But police said that at this stage it did not believe the two raids were connected.
Ness locals were shocked and unable to recall another burglary in decades. Ness is home to around 1300 people.
"I have lived here for 18 years and I can't remember another break-in. We just don't have burglaries. A lot of people don't even lock their doors," said local resident Donald Hope.
Katie Mary Mackenzie, chair of Ness Community Council, added:"I am devastated and very disappointed. This is a rarity in Ness. I personally can't recall another burglary going back to the 70s."
Another resident, who did not wish to be named, said:"This has sent shock waves around the community. It is especially sad because the couple who run the store have only just taken it over."
A message of the store's Facebook page posted last month said:"All the very best to Alasdair and Rona on their retirement. Thanks for entrusting us with the future of Cross Stores. We are just settling in this week and look forward to meeting all the loyal customers of the shop and maybe a few new ones ? We welcome any suggestions, comments or idea's of how Cross Stores could be even better !! Paddy & Johanna."
Several remote island communities have been hit by 'crime waves' this year.
In June, detectives investigated the first theft on Canna in 50 years.
And in May police probed a break-in and theft at the Isle of Barra airport cafe – one of the few break ins on the island in living memory.