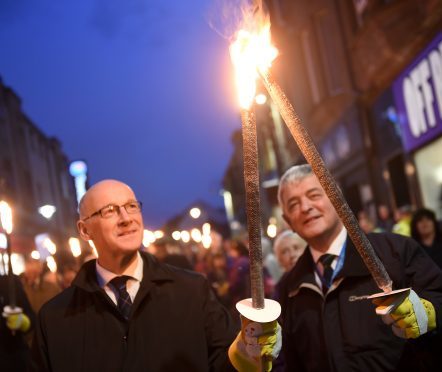 The Scottish Government is to become a key funder of the Royal National Mòd.
At the opening ceremony of the record-breaking 2017 Gaelic cultural festival in Lochaber last night, Scotland's deputy First Minister John Swinney revealed that the Mòd will receive £35,000 towards education projects plus an annual funding boost of £20,000.
Speaking at the Nevis Centre in Fort William, Mr Swinney said: "This year marks the 125th anniversary of the Royal National Mòd – it is a much valued part of Scottish cultural life and has made an immense contribution to Gaelic language throughout the country.
New Gaelic ambassador Janet has championed the cause all her life
"The Scottish Government is a strong supporter of our indigenous languages and we want to see all bodies working together to support and promote their use.
"That is why, on top of the one-off funding of £35,000 for An Comunn Gàidhealach towards Gaelic education projects, I am pleased to confirm we will become a core funder of the Mòd.
"Our commitment of £20,000 a year – starting in 2018 – will help ensure this important festival's future sustainability."
Mr Swinney also announced £50,000 of development funding to MG Alba – the Gaelic media service –  towards the training of future writers, story editor and producers for the popular Gaelic drama, Bannan.
Welcoming the announcement, Allan Campbell, president of An Comunn Gàidhealach, said: "As the world's premier Gaelic language festival, the Royal National Mòd is understandably costly to stage, and funding the event is an yearly challenge.
VIDEO: Torch procession lights up Fort William for Royal National Mòd
"This £20,000 annual grant from the Scottish government is most welcome, and much appreciated."
In his address, Mr Campbell spoke of the impact of the recent expansion of Gaelic education, resulting in a record number of participants taking part this year.
He said: "The Mòd has a legacy which lasts far beyond its week-long programme of competitions and events and inspires Gaels of all ages throughout the country.
"I urge the Royal National Mòd to be recognised as one of Scotland's national cultural treasures."
Highland councillor Alister Mackinnon, chair of the council's corporate resources committee as well as the Gaelic strategy and implementation group, welcomed the Mòd to Lochaber.
He said:  "The number of young people entering competitions is increasing and the council has worked closely with the local  Mòd organising committee and Fèisean nan Gàidheal to develop a Mòd Academy.
"Fourteen schools in Lochaber have taken part in this programme. Four experienced tutors delivered 160 sessions to over 780 pupils who all received a taste of Gaelic song and traditional music tuition.
"The council has also submitted to Bòrd na Gàidhlig a draft of its third Gaelic Language Plan.  It places emphasis on both early years and primary school education, and currently plans are being developed for the expansion of Gaelic in secondary education."