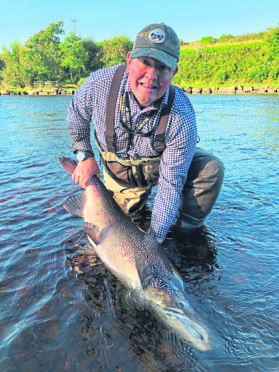 It is the country's most prestigious angling award – and this year, it has been picked up for the biggest catch from a particular Highland river in decades.
The 2019 winner of the Malloch Trophy – for one of the largest salmon caught by an angler on a fly and safely returned during the year in Scottish waters – has been announced. The successful angler is Ian Mitchell for a 32lb fish caught in the River Conon, understood to be the heaviest caught in the Easter Ross river for 35 years.
Mr Mitchell, from Bromsgrove in Worcestershire, landed the salmon on September 21 in the Junction pool of the Lower Fairburn beat. The fish was measured – at 44 inches long with a girth of 22 inches – by gillie Max McKinstrie and was witnessed by both Mr McKinstrie and Andy Hindhaugh.
Mr Mitchell said: "It was a day of bright sun and unseasonably hot at 23C – very difficult fishing conditions. However, as I was fishing close to the spot where I had caught and returned a 20lb salmon the previous year, I persevered and was rewarded with what is clearly the fish of a lifetime.
"It is interesting to note that one evening earlier in the week an angler fishing the Brahan beat on the opposite bank had hooked and lost, after a lengthy tussle, a very large fish in the next pool down. One wonders if it was the same fish?
"Because of the adverse conditions, my fishing companion Andy Hindhaugh was taking a break. This was highly fortunate because it meant that he was on hand to wade out into deepish water to net the fish. Without his help the episode might well have been just another 'lost' fish."
The 32 lb salmon is believed to be the heaviest fish caught in the Conon in more than three decades. Some 35 years ago a 33lb salmon was landed further upstream below the Torr Achilty hydro dam.
The Board of Trustees of the Tay Rivers Trust (owners of the Malloch Trophy) considered the entries for this year's award at their December meeting. Mr Mitchell's entry, which fulfilled all the relevant criteria including best evidence, was endorsed as the winner for 2019.
Mr Mitchell's name will be engraved on the trophy, joining an illustrious list of previous winners which stretches back to 1972. He will also receive a replica of the trophy and some fishing tackle.