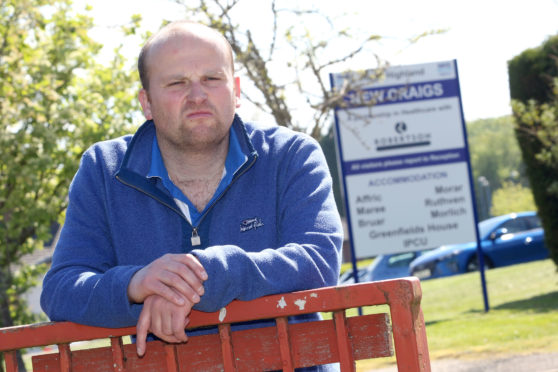 Scotland's ombudsman has upheld the complaints of a north psychiatric patient who waited over five years for treatment from NHS Highland.
Peter Todd is now seeking a meeting with health chiefs to discuss the findings of a watchdog investigation into a "series of failures" by the health board.
The Scottish Public Services Ombudsman (SPSO) upheld a series of complaints made by the Caithness man – a victim of the Cyril Smith-linked paedophile ring – with Mr Todd now seeking to meet the chief executive of NHS Highland, as he claims he was promised.
Mr Todd complained over the health authority's decision to withhold access to accommodation at Kyle Court in Inverness over claims complaints had been lodged regarding his behaviour at the facility.
Mr Todd complained to the ombudsman about the manner in which NHS Highland investigated the complaints.
Mr Todd said: "It's clear that the complaints system is designed to bury patient's complaints.
"It is astonishing a manager who was implicated was allowed to investigate the complaint.
"The fact there is no documentary evidence to back up their accusations is simply outrageous."
He added: "Whilst going through psychological treatment, I've had to endure psychological bullying by the management of the organisation that is treating me.
"The management is not fit to work for a caring and compassionate organisation and are an embarrassment to the hardworking and dedicated clinicians who have helped me immensely."
Mr Todd has said "the cusp of legal action is now on the horizon" adding the blame can no longer be attributed to the previous regime.
An NHS Highland spokesman said: "We have apologised to the patient for the failings identified in the report and again would like to sincerely apologise for the failures identified.
"We accept the findings of the SPSO and steps are being taken to ensure we meet the recommendations."
Local politicians who have fought Mr Todd's corner have stated that failings have been evident throughout the process.
Highlands and Islands MSP David Stewart said: "NHS Highland's complaint procedure was clearly not followed fully in Mr Todd's case.
"This failure to handle Mr Todd's complaints formally, under set down procedures, has caused Mr Todd much distress and frustration over many months and I'm pleased that an apology is recommended for him by NHS Highland and moving forward, that the board has to review its complaints handling procedure and staff training has to take place."
Fellow regional MSP Edward Mountain added: "It was clear to me that the previous administration of NHS Highland were giving different briefings to MSPs to further their own political aims and this report now proves this.
"Frankly, that was despicable and unhelpful."
NHS Highland has offered Mr Todd a meeting with Heidi May, Board Nurse Director, to discuss the report's findings.
The story so far
Mr Todd's complaints date back to 2018 when attending appointments at New Craig Psychiatric Hospital.
In June, July and August; he was advised he would have to book his own accommodation as he was told the facility at Kyle Court was fully booked.
Mr Todd was also informed at this point that accommodation would not be provided to him as there had also been complaints raised over his behaviour at the facility on a previous occasion.
After contacting local elected members to investigate the complaints, Mr Todd was offered bed and breakfast facilities by NHS Highland as an alternative to the patient residency, which would be funded by the health board.
In October last year, Mr Todd emailed the board of NHS Highland to make a formal complaint about their handling of the complaints made against him at Kyle Court, seeking further information on the complaints.
This was followed up three days later with additional questions and information with a response issued from NHS Highland at the end of October.
Mr Todd, who remained dissatisfied with the response, approached the Scottish Public Services Ombudsman (SPSO) on January 3 this year in a bid to have NHS Highland admit their failings and issue an apology.
A preliminary response by the SPSO was issued to Mr Todd in November ahead of the full report, with all Mr Todd's complaints upheld.