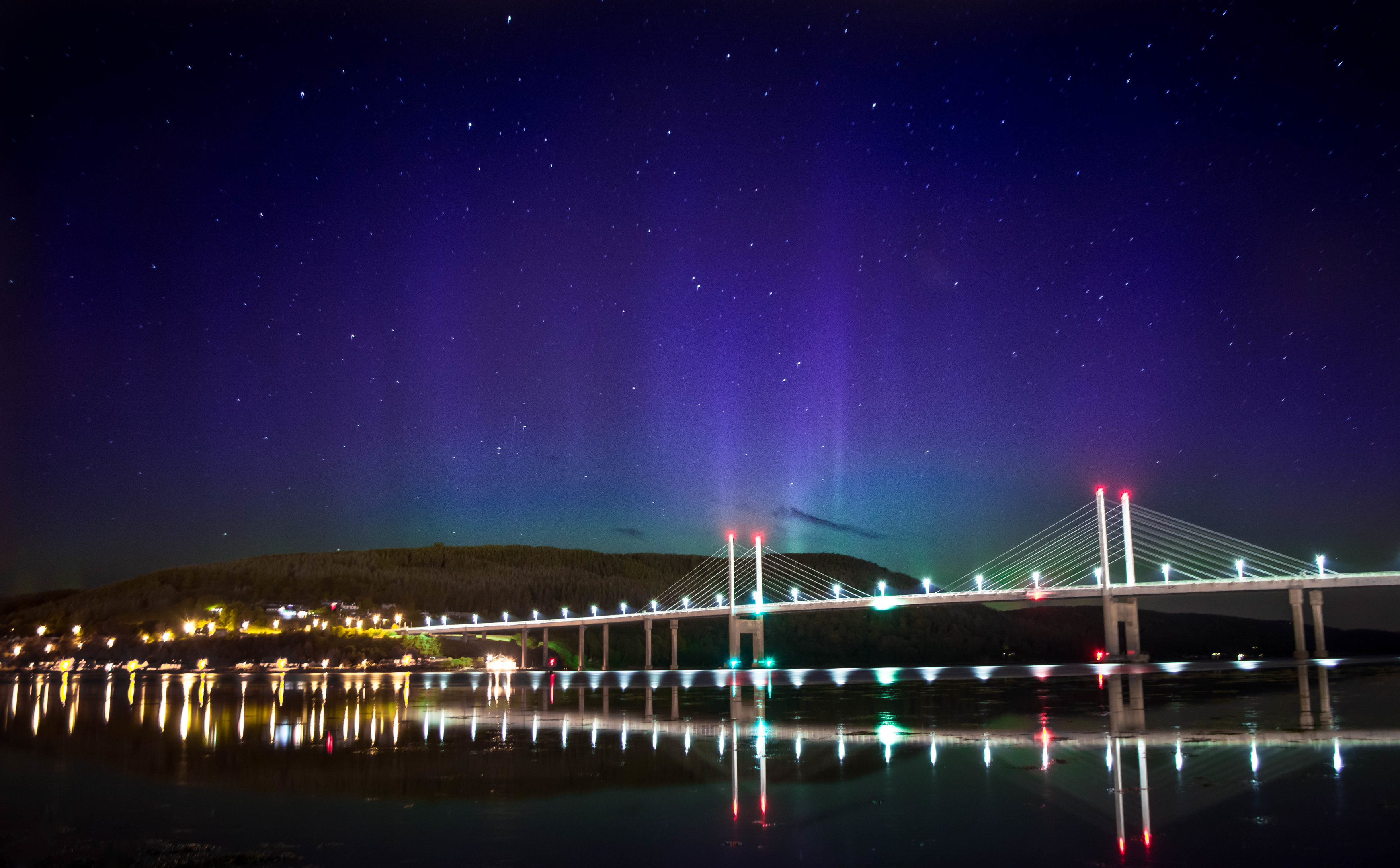 These stunning pictures show the aurora borealis in all its glory as seen from the Highland capital.
Despite the Northern Lights phThey were captured by amateur photographer Darren Chisholm in the early hours of Sunday morning.
A self-confessed "aurora hunter", Mr Chisholm was rewarded with a spectacular show after setting out to try and get his pictures at 10.30pm on Saturday night.
He is such an admirer of the Northern Lights that he has a tattoo on his arm of the aurora and the mountains of Alaska.
Among the spectacular snaps is the sky lighting up blue and green over the Kessock Bridge and the Black Isle, with the aurora reflected in the still waters of the Moray Firth.
He was also able to spot the northern lights from Castle Hill in Inverness, capturing them from the city centre despite the brightness of the street lights.
And he was also able to take some pictures from Alturlie Point on the shoreline of the Moray Firth.
Despite being out until around 2.30am in pursuit of the northern lights, Mr Chisholm was back up ready for his day job as a green-keeper at Castle Stuart Golf Links.
The 30-year-old first fell in love with the lights as a youngster growing up in Dornoch, with the lights regularly visible from Sutherland.
He now lives at Macewan Drive in Inverness and regularly pursues the aurora with other enthusiasts.
He said: "The camera takes in a lot more light than you can really see, a lot of people don't even know that its happening.
"We went out to get the aurora and also because of the meteor storm just now but I didn't get any good pictures of that.
"I took somewhere between 200 and 300 photos but only about five or six really show it."
The pictures are taken with an extremely long exposure in order to gather as much of the light as possible.
Mr Chisholm and other aurora work out when they might be able to spot the northern lights by tracking information about activity on the surface of the sun which causes the show.
He said that it was unusual to see such a good show during the summer, with the sun not setting until later in the evening.
Mr Chisholm also captured dramatic images of the aurora in February after a strong geomagnetic storm prompted a light show which could across the whole of the UK.