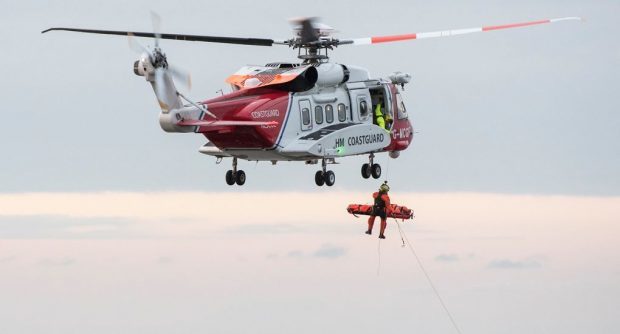 A teenager plucked to safety from rocks as the tide came in has spoken of his fear as he got entangled in seaweed and hit by a freak wave.
Thomas Hopkins, 14, said he knew the situation "wasn't good" after getting stuck as he tried to escape the onrushing water near Portknockie.
The force of the wave pushed the body of the Milne's High School pupil around and left him unable to walk to safety.
Emergency crews were scrambled from as far away as Inverness due to concerns about the incoming tide near the Bow Fiddle Rock.
After being winched by Coastguard helicopter to the top of nearby cliffs, medics transported Thomas, the stepson of Fochabers Lhanbryde councillor Marc Macrae, to Dr Gray's Hospital in Elgin for checks.
They found he had suffered a twisted knee and strained ligaments in his right leg.
Last night the Fochabers teen revealed he had been heading for home after taking part in adventure activity Coasteering with group Aquaplay Scotland before being caught in the wave.
He said: "I was just coming out of the water for the last time when I saw a big wave coming towards me.
"I started trying to get out but it kept getting closer and I got my foot stuck on some seaweed and I thought – this isn't good.
"When I turned round the wave hit me and it knocked me and my leg got twisted. I managed to get out of the water but I could tell it didn't feel right."
The youngster was allowed home after several hours at Dr Gray's and has been prescribed pain killers.
Coasteering involves moving along a rocky coastline, either by foot or by swimming, without using a boat or other aid.
Thomas had been embarking on his final expedition before the summer holidays with about a dozen other youngsters.
Yesterday Mr Macrae revealed he had rushed to the craggy coastline from an Elgin meeting after being told by phone a helicopter was being scrambled for his stepson.
He said: "They were kitted out with all the safety equipment they needed but these kinds of things still happen.
"He was literally about two steps from being able to get home at night alright but just happened to get his foot stuck."
Thomas added: "The doctors have decided it just needs rest. I've been told to stay off it for a couple of days and gradually work up to walking again."
A coastguard spokeswoman explained the group called for help immediately after the incident, which happened at about 9pm on Monday.
She said: "Because of where it was and because the tide was coming in Buckie, Portsoy and Banff coastguard rescue teams and a helicopter from Inverness were sent.
"Fortunately a coastguard team member lived opposite the rescue area and was on the scene within five minutes.
"The teenager, who sustained a leg injury, was airlifted to a cliff top, transferred to an ambulance and taken to hospital."