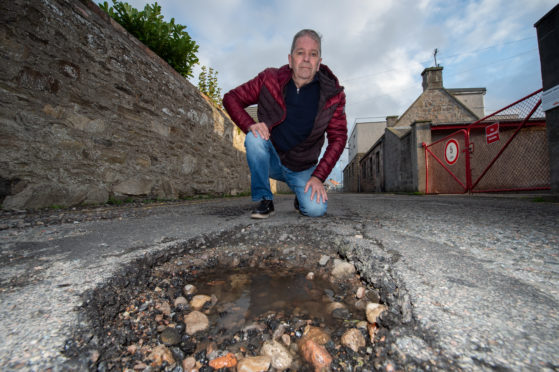 Council chiefs have announced they will adopt a notorious Moray town centre road blighted by lack of maintenance.
For years, Harbour House Lane in Buckie has deteriorated, with mystery surrounding the identity of its true owners.
The authority has previously funded minor repairs to maintain its safety despite not being legally responsible for it.
However, the authority's tightening purse strings resulted in it halting payments on streets it does not own several years ago as the repair bills for its own roads have stretched to more than £40 million.
Concerns have grown in the coastal town about the condition of the busy thoroughfare, known locally as the post office lane, which is popular with shoppers.
Continued neglect in recent years has caused it to become riddled with pot holes, some as deep as five inches.
Meanwhile, there have been reports about extensive damage caused to some cars and injuries sustained by pedestrians who have tripped on the uneven surface.
And so yesterday it was confirmed the town's common good fund would pay to bring the road up to scratch, with the council assuming responsibility of the lane thereafter.
Buckie councillors Gordon Cowie, Tim Eagle and Sonya Warren have all pressed the need for the mystery surrounding the street to be brought to a close.
Mr Cowie said: "It's dangerous. I've had reports of both cars and people being hurt due to the pot holes – they've just been getting bigger and are very large now.
"Unfortunately we did not know who the owners of the road were but recognised the importance of it as a link-way in Buckie so we decided to use common good funds to upgrade it with an agreement that the council will adopt it.
"This means any future maintenance will be down to them."
Mr Eagle added: "I was called recently by a person frustrated by the state of the road which, due to poor lighting, is an even bigger hazard in winter.
"It's frustrating that the council is in such a bad way due to underfunding that they couldn't step in to get it sorted but we have an agreement now for the future."
It is expected that work to repair the street will be undertaken before Christmas.