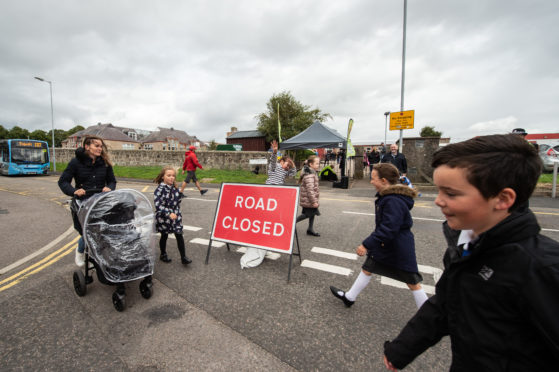 A trial to shut streets outside a Moray school to improve safety is poised to be extended.
Roads surrounding New Elgin Primary School were closed a drop-off and pick-up times during September as part of a one-day experiment by charity Living Streets.
Today Moray Council backed the initiative and pledged to experiment with the scheme at other locations to determine whether they can become permanent.
Fears have been raised about road safety at the gates after a decision was taken to remove crossing patrollers during the summer as part of budget cuts.
Schools deemed to be appropriate for the scheme will be written to within the next week by authority staff to ask if they want to take part.
Elgin City South councillor John Divers described the New Elgin trial as a "huge success".
He said: "I have never seen children and parents being so safe outside the school. Since the trial cars have continued to disperse, just within that one day it seems parents have learned a lesson.
"New Elgin is definitely a school that can benefit from this. East End in Elgin is probably another."
Council leader Graham Leadbitter, who also represents Elgin South, explained the move had resulted in increased traffic on Robertson Drive but explained the road "seemed to cope" with it.
Transportation manager Nicola Moss explained the closures would not be suitable at every school due to individual road layouts.
She added: "Staff will be raising this with schools to see which are appropriate. This will happen this week."