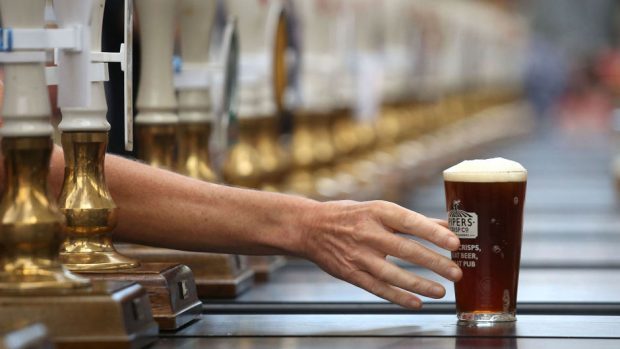 Businesses in Fraserburgh have backed moves to renew a law banning boozing in the town centre.
A bylaw making the consumption of alcohol on the streets illegal was introduced in 2006, with the aim of reducing antisocial behaviour.
Police believe it worked, and are now hoping to extend the bylaw.
Anyone caught drinking faces a £500 fine and could be arrested if they refuse to hand over their alcohol.
Kenny McGeough, licensing inspector for the police's north-east division, said the bylaw was "integral" for them.
He said: "Both Fraserburgh and Peterhead have used the bylaws to good use to deter and prevent antisocial behaviour and allow for a better societal and community based environment, allowing police officers to take action with those drinking alcohol within the designated areas with full legislative backing and support.
"The existence of such a bylaw within Fraserburgh is integral to our work towards community cohesion and safety."
Police have also listed five incidents which they believe show why the rules should be kept in place.
They involve groups of men and women drinking alcohol from bottles and cans in front of churches and shops.
The incidents took place on Fraserburgh's Mid Street, Broad Street, Saltoun Square and Castle Street last September.
Last night, shopkeepers backed the proposal to keep the bylaw in place.
Ian Dyga, who runs R&S Dyga newsagents, said: "I fully support renewing the bylaw prohibiting the consumption of alcohol in public places in Fraserburgh.
"Within the first week of the zero tolerance starting, we saw a vast improvement in the town centre. Even our customers commented on how good they felt coming down the road again."
John Maitland, the managing director of Maitland's furniture, said it was important for the bylaw to continue to boost trade and help the port's image.
He said: "I wholeheartedly believe that this bylaw should be renewed. My restaurant business stands on the main street through Fraserburgh and we rely on the tourist trade passing through.
"Having a bylaw, such as this, keeps any disorderly behaviour at bay, gives the local police the strength to ensure law and order is maintained on our streets and reduces any negative publicity affecting Fraserburgh."
Asda, Fraserburgh Community Council, the Fraserburgh Community Safety Group and Duncan and Todd opticians also support it.
Members of the Banff and Buchan area committee will be asked to approve the renewal today.