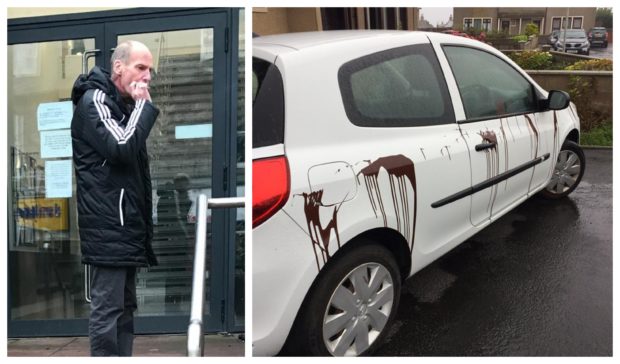 A warehouse supervisor was yesterday fined after pouring paint over his ex-wife's car while it was parked outside a hospital.
Alan Holmes covered the white Renault Clio in the brown liquid while it was parked up at Fraserburgh Community Hospital on the port's Lochpots Road.
His former partner Lynne Mortimer was working as a secretary in the building when her vehicle was targeted on October 4 last year.
Holmes, 60, was said to have doused paint over the motor after they had an argument about a hospital employee lodging a complaint against Mrs Mortimer.
However, he denied the offence during a trial at Peterhead Sheriff Court yesterday and claimed he was simply taking his pet pug for a walk on the hospital grounds.
Giving evidence, Mrs Mortimer told the court she was warned about an incident involving her car by another member of staff at lunchtime.
Fiscal depute Ruaridh McAlister asked the 59-year-old about the state of the Clio when she went outside to check it over.
Mrs Mortimer said: "There was brown paint all down the driver's side.
"It was like someone had taken a squeezy bottle of washing-up liquid and poured it onto the car.
"There was some paint on the driver's window and quite a lot on the ground."
Mrs Mortimer said she was "quite upset" by the incident and that her husband had arranged for a local garage to clean up the mess at a cost of £50.
The court also heard from hospital cleaner Susan Murdoch who saw Holmes crouching down between the rows of vehicles in the car park.
She took a photo of him which was later passed on to the police.
The couple's daughter Alison Holmes told the court an "ongoing situation" at the hospital may be have been the motivation for the attack.
She said that a friend had made a complaint against her mother.
Holmes said he was at the hospital but said he was simply walking his dog at the time.
He told the court he "wasn't interested" in the apparent dispute between his ex-wife and her friend and put it down to "women's problems."
---
---
The 60-year-old also denied any suggestion that he been hunched down beside the vehicles.
Holmes said: "There is no way I could walk and crouch because I have a chronic back problem."
Defence lawyer Marianne Milligan argued that the photograph taken by Mrs Murdoch showed Holmes was simply standing in the car park with his pet.
She said her client accepted he was in the car park, but that the evidence was circumstantial.
But Sheriff Christine McCrossan said she was "not convinced" by his explanation and fined Holmes £350.
Holmes, of Williams Crescent, Fraserburgh, was found guilty of a single charge of wilfully or recklessly destroying or damaging property belonging to another.