The huge scale of the hunt for missing woman Margaret Fleming has been revealed in this drone footage.
Pictures taken from device show the back garden of the house she was understood to live in with her carers and it has been completely ripped up, leaving a large patch of churned up mud.
A small white digger can be seen excavating next to a fence, while a piece of blue tarpaulin has been placed in the middle of the garden where holes have been dug.
Litter is strewn next to the two-storey white house in Inverkip, Inverclyde.
And a window has been removed, revealing the piles of items inside that police have been trawling through to find clues.
A large metal fence has been erected by the roadside at the property with uniformed police standing guard.
The property is owned by Avril Jones, 56, and Edward Cairney, 75, who are understood to be Margaret's carers.
Police Scotland's Major Investigations Team, who are probing 36-year-old Margaret's disappearance, revealed earlier this week that she had not been seen by anyone apart from her carers since 1999.
Her last public appearance was at a party on December 17, 1999.
Margaret, who is understood to have learning difficulties, was reported missing six weeks ago by her carers when police visited the house to speak to her about a separate matter.
It is believed she lived with her father in Port Glasgow, Inverclyde, who died in October 1995.
She then stayed with her grandparents and mother before moving in with her carers in 1997 in Inverkip.
Margaret has been estranged from her mother since then.
Police believe she attended James Watt College in Greenock from 1996 to 1998.
Officers have held an extensive poster campaign in the Inverclyde area to try to jog people's memories about Margaret.
But locals in Inverkip say they do not know her.
DCI Paul Livingstone, who has been leading the investigation, said earlier this week he had been "encouraged" by the response to an appeal for information, but was calling for those who had visited the house to come forward.
He said: "Apart from her carers, the last independent sighting of Margaret was in 1999.
"This, along with facts such as having no trace of a job, few friends that are contactable and no evidence of her contact with partner agencies and local services has led me to become very concerned for her whereabouts and wellbeing.
"One line of inquiry that I now must consider is the possibility that Margaret may have come to some harm.
"It's important that we keep an open mind to all lines of enquiry but the distinct lack of information about Margaret is concerning.
"I am heartened by the encouraging response from the appeal for information and we have had a number of people phoning the team to say they remember or recognise Margaret.
"We also had a few people saying that they had visited the house that she is believed to stay at with her carers in Inverkip.
"I'm keen to speak to anyone else who has visited the home, whether socially or for business purposes as they may have seen or heard something that could help with the investigation.
"That could be someone making deliveries such as for shopping or takeaway food or perhaps doing building work on the premises. I'm really keen for anyone to get in touch.
"Officers continue to search a house and grounds in Inverkip, as well as searching nearby areas. I would continue to ask anyone who may have any piece of information that may help, however small, to get in touch with the investigation team based at Helen Street Police Office, Govan on 101."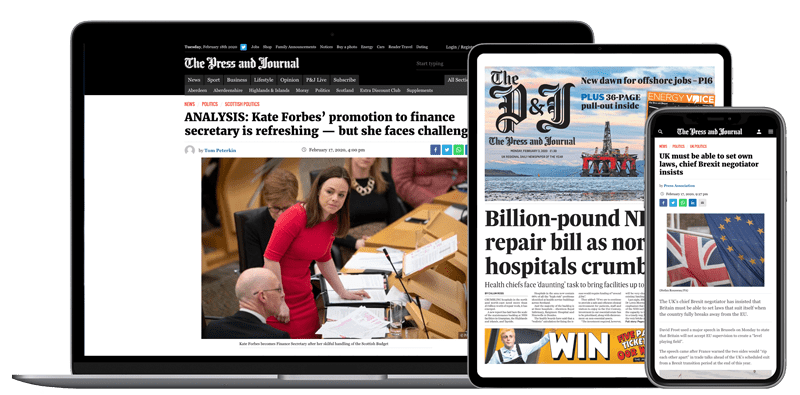 Help support quality local journalism … become a digital subscriber to The Press and Journal
For as little as £5.99 a month you can access all of our content, including Premium articles.
Subscribe