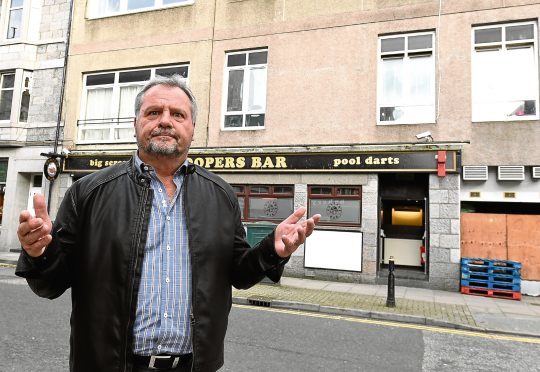 From cosy little pubs where indie bands play acoustic sets to nightclubs and karaoke bars, music and culture are at the heart and soul of any city.
But live venues all across Scotland are battling to avoid being silenced by "heartbreaking" legislation.
Law in the UK currently states that anyone who allows too much noise to escape their property is ultimately responsible for limiting their own volume.
In reality, the legislation means one complaint can lead to a Noise Abatement Order.
The costs of completely soundproofing a building to prevent any sound escaping can lead to bills of thousands of pounds, which can serve as death sentences for the small, independent venues that up-and-coming artists and performers rely on to make their big break.
But hope is not lost.
All across the UK, musicians, venues and fans alike are putting pressure on politicians to consider implementing the Agent of Change principle, a movement which was launched in Australia to encourage the growth and sustainability of vibrant live music culture.
Under the proposal, those complaining about nuisance noise would only be able to do so if they had lived at a location prior to the noisy neighbours moving in – which means that a resident living above a club would not be able to complain about noise if they moved into their home with the full knowledge that they would have a loud business beneath them.
Last year, a final farewell gig was held at Downstairs, on Holburn Street in Aberdeen, after a nearby resident made a complaint to the city council and managers Gavin Bassett and David McGhie were handed a noise abatement notice, ordering them to prevent loud music leaking from the basement venue.
The cost of installing measures to soundproof the entire premises was £80,000, which was ultimately too much for the pair and Downstairs shut its doors for good – leaving the Granite City with one less stage and a gaping hole in its music scene.
Mr Bassett, who now runs a live music bar in Dunfermline, said: "The problem with legislation now is it's not balanced.
"There is a responsibility of business owners to adhere to it, but we were open for almost three years before we got our first noise complaint.
"Everyone is suffering across Scotland because of this. The venue that got me into the music scene, Studio 24 in Edinburgh, just got shut down as well because it couldn't pay their soundproofing bills. You're hearing the same stories up and down the UK.
"If legislation doesn't change, we will never have a UK music scene as healthy as it was back in the day."
Campaigns are ongoing to implement the Agent of Change principle as law in England and Wales, but more and more Scottish voices are appealing for the change north of the border.
One such voice is Bob Baxter, the director of Coopers Bar on John Street, Aberdeen.
Despite having hosted live music for decades, the traditional pub had never received any noise abatement notices until January 2014, when they were told of a complaint by a nearby resident about the volume of their karaoke.
Mr Baxter recruited help from sound engineers all the way from Napier University to help his premises comply with the notice.
After a year of refurbishment, where Mr Baxter and his staff sealed air conditioning vents, plugged holes in the roof, installed sound limiters to the music system and even made the windows air-tight, more than £25,000 had been spent.
But despite the great amount of cash spent, Mr Baxter said he is still not allowed to host karaoke nights at the bar, much to the disappointment of his customers.
Since he was handed the notice, Mr Baxter said he estimates his bar has lost out on around £100,000 of custom.
He said: "We have put in place as much as we could without lining the bar in lead.
"Our karaoke used to bring in hundreds of customers, we would hold it on Friday and Saturday nights, but it finished up before 11.
"A lot of our clientele at the karaoke were within their 60s and 70s, it was like a social club for them, they would come down, have a pint, have a song and meet all their friends.
"The last thing these people would want would be to sit in an environment where you can't hear yourself think, it really wasn't loud.
"The worst problem I've had is explaining the situation to my customers. I've never felt so helpless.
"If there had been six or seven complaints, I would have put my hands up and admitted it was a problem, but in the 12 years I've been at Coopers Bar, we only had one complaint, from one individual.
"But at one time, we even had four-piece bands playing at the bar.
"All it takes is one grumpy person, or someone who has a headache one day, or changes to nightshifts, for all hell to break loose."
The resident concerned did not answer their door yesterday.
Beverley Whitrick, strategic director of the Music Venue Trust which is working to encourage the implementation of the Agent of Change principle, said more must be done to protect live music venues in Scotland.
She said: "We've made some progress over the past few years, but unfortunately it's not the law of the land yet anywhere in the UK.
"But we have made good steps.
"There is a commitment in The London Plan, which is a development plan for the future of the capital, to contain the Agent of Change principle – and that would cover all of the boroughs of greater London.
"And the Welsh government have also made a commitment – new planning policy is being written for the whole of Wales and following campaigning in Cardiff we have achieved a commitment from both politicians and officers writing the policy to include the Agent of Change in order to protect venues in Wales.
"However, the work hasn't progressed very much in Scotland – as a UK-based charity, we have four different countries to work in, and as a small organisation we don't have enough resources to focus on Scotland right now.
"But there is, of course, so much live music culture in all of Scotland's cities that need all the help they can get."
In Inverness, the Tooth and Claw bar on Baron Taylor Street introduced live music in summer 2012, initially with open mic nights in the downstairs section of the property.
But after it proved to be successful, co-owners James Carr and Paulina Matuszak decided to open the upstairs area for music with a bigger audience.
After six months of music, the independent bar was forced to silence down the upstairs operation because of a noise complaint.
Mr Carr said: "Environmental health gave us three options – either shut the music off completely, take it back downstairs or limit it with soundproofing.
"Soundproofing financially was not an option, so we brought it downstairs again.
"It really wasn't what we wanted to do. The time that we had our music upstairs really brought in a lot of customers, and everyone really enjoyed it.
"We were getting constant requests to reopen our larger venue upstairs. It was heartbreaking to keep telling people that we simply couldn't afford it.
"But luckily last year we won £10,000 and support from producers from the Performing Rights Society for Music, and all that money got ploughed into putting the soundproofing in and we were able to reopen it a year ago on August 25.
"If we were not able to secure that money, however, we would have been in real trouble. The creative and musical scene in Inverness is absolutely incredible, and it deserves to be supported."
North-east MSP Lewis Macdonald has raised the issue in Holyrood, and said he is appealing for the Scottish Government to do all it can to protect the rights of live music venues.
He said: "In June, I raised the issue of live music venues and the current law. The Scottish Government has consulted, it has asked people's views on this ahead of future planning law changes, and they will publish the response to that consultation in the next few weeks before bringing a bill to the Scottish Parliament in the next few months. What we don't know is whether this particular change will be included in that bill.
"Clearly, the best outcome would be if the Scottish Government recognised the need to make this change, and put it in the bill – but if they don't, I will be pressing them to make sure the voice of live music venues across Scotland are heard in parliament."
A Scottish Government spokesman said: "Noise nuisance relating to music venues and other premises is managed by local authorities through licensing and environmental health regimes.
"The planning system has a role where new development is being considered near existing venues, and we are looking at whether more can be done in that regard in the context of the planning bill.
A spokeswoman from Aberdeen City Council said: "Following complaints regarding elevated noise levels emanating from Coopers Bar, officers from Environmental Health investigated the matter and subsequently issued a noise abatement notice.
"No appeal was made regarding the notice by the recipient."