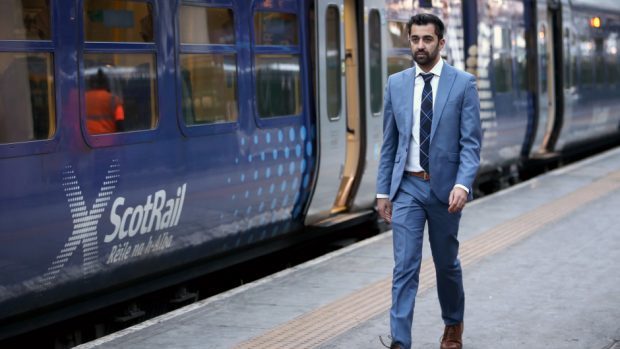 Labour has challenged the Scottish Government to back its plans to renationalise the East Coast main line following the early termination of the rail franchise.
Party spokesman Colin Smyth has written to Transport Minister Humza Yousaf, urging him to publicly endorse the move for the route, which provides a link between Aberdeen and England.
He said it was "extremely disappointing" that Mr Yousaf had not yet done so but the SNP minister said "no options for the future of the East Coast main line should be taken off the table".
The UK Government has announced that franchise operator Stagecoach would continue running the line for only a few months because of losses.
Westminster Transport Secretary Chris Grayling has said it could then be allowed to continue to run services on short term non-profit basis or the government may step in to run the service.
The franchise was previously taken into public ownership in 2009 after being run by National Express, but Tory ministers controversially reprivatised it.
Manuel Cortes, leader of the Transport Salaried Staffs' Association, urged First Minister Nicola Sturgeon to intervene in the "fiasco" earlier this month.
In his letter, Mr Smyth wrote: "I am writing to urge you and the Scottish Government to publicly support Labour's calls for the East Coast main line to be renationalised following the collapse of its franchise.
"The decision by the UK Government to sell-off the franchise to Stagecoach was a betrayal of taxpayers and the travelling public.
"The failure of the Stagecoach franchise reflects the deep-rooted problems with our privatised railways but we now have an opportunity to put the East Coast main line back into public hands.
"In the past the Scottish Government have claimed to support publicly-run railways in Scotland, so it is extremely disappointing that so far you have chosen not to support Labour's call for a publicly-run East Coast main line, particularly given how important these services are to passengers in Scotland."
In response, Mr Yousaf said: "Both myself and my predecessors have long made clear to the UK Government our preference for public sector operators to be given a fair chance to operate our railways.
"The UK Government has the contractual relationships with East Coast Rail's operators and they should be held to account for the current situation. Our priority is to ensure continuity of services for travellers.
"No options for the future of the East Coast main line should be taken off the table, including the UK Government continuing to run the contract and returning the appropriate profits to Scotland."