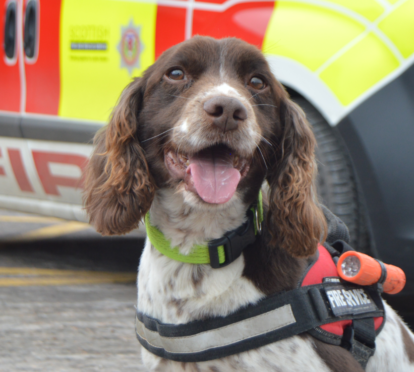 Fire chiefs have praised a hot dog whose exceptional search skills have been used to help casualties around the world.
Diesel the Springer Spaniel has now been given his own social media account to enable him to share safety advice with his global group of dedicated fans.
Kitted out in his state-of-the-art "doggles" and booties Diesel, along with his Portlethen-based handler Gary Carroll, plays a vital role in the fire service Urban Search and Rescue (Usar) National Response unit.
The heroic hound has even been sent as far afield as Nepal, where he helped in the wake of the country's devastating April 2015 earthquake.
Often travelling by helicopter, Diesel's doggles protect his eyes from dust and debris thrown up by aircraft, while his boots protect his paws from rubble and glass while he searches collapsed buildings.
Deputy Chief Officer Iain Bushell said: "These pieces of equipment are absolutely vital to protect this outstanding and highly valued member of our team.
"They enable Diesel to enter some of the most hostile environments, not only reaching casualties but helping protect his firefighter colleagues as they work in risk zones.
"It is crucial that we have this capability as the Scottish Fire and Rescue Service enhances wherever possible its response to major incident and also seeks to transform to meet modern risks such as terror attack."
BARK! Hey I'm Diesel the @fire_scot Search and Rescue dog and this is my brand new twitter account – Follow me to find out all about my grrrr-eat job, training and what I'm up to! Don't forget to retweet! 🐶🐕 #Bark #DogsOfTwitter #WorkingDogs #FridayFeeling pic.twitter.com/pYkDaht34R

— Diesel dog (@SFRSdog) August 3, 2018
He added: "It is clear that Diesel is held in the very highest regard not only by ourselves but by the Scottish public – he is indeed a very good boy."
Mr Carroll said: "Diesel and I have worked together for many years in some of the most challenging environments and there is no doubt whatsoever that he is integral to that response.
"We have an incredible bond and he is a very special wee dog – and to the point where we think he really does deserve his own dedicated online account.
Here's me and my doggles! They might look like super-cool sunglasses but they actually help cover my eyes from dust and debris thrown up from landing and hovering helicopters 🚁😎

One of my human pals wrote about them! Read it 👉 https://t.co/Jp5zLH2GSs #DogsOfTwitter pic.twitter.com/AmkoVe6Uhy

— Diesel dog (@SFRSdog) August 3, 2018
"It will provide everyone with a real insight into not only how he is trained and his serious capability but also how he likes to spend some down time playing with his ball."
For regular updates from the Portlethen pooch, follow @SFRSdog on Twitter.