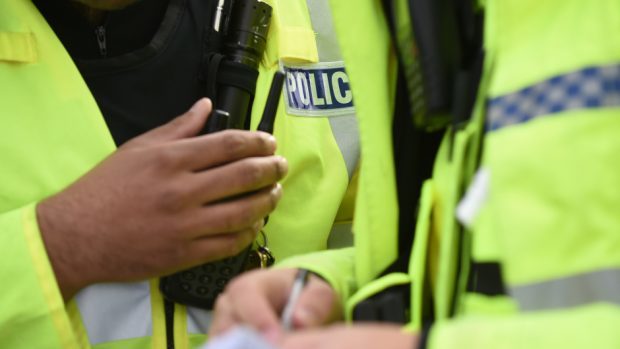 A carjacker who was foiled when he managed to lock himself inside the car he was trying to steal with no way of starting the engine was today jailed.
Mark Aitchison was in a car with three associates in Arbroath when he leaped out and attacked Jordan Cowie.
He grabbed his victim by the face and tried to search him for the keys to Mr Cowie's BMW 5 Series car.
Aitchison – who was previously jailed over his part in a danger driving incident that led to the death of his friend – then leaped in to the open motor but only managed to lock himself inside the vehicle and set off the alarm.
Unable to free himself from the car and without the keys, he tried to start the engine but only succeeded in releasing the handbrake and rolling it slowly back into a car parked behind it.
The crook's lawyer described his robbery bid as "farcical".
Dundee Sheriff Court heard Mr Cowie ran back into his mother's house to hide the keys and phone police.
Fiscal depute Sue Ruta told the court that Aitchison's associates then sped back to the scene and smashed the car's window to free him before speeding off again without him.
Aitchison then managed to extricate himself from the car through the broken window and tried to run off up the street.
But he was captured in a garden close by as officers descended.
Miss Ruta said: "He was taken to Ninewells Hospital to be treated for the cuts to his legs that he got when he climbed out of the window."
Aitchison, 25, a prisoner at HMP Perth, pleaded guilty on indictment to a charge of assault with intent to rob committed on August 16 in Brechin Road, Arbroath.
Defence solicitor Kevin Hampton said: "It is a very strange set of circumstances, bordering on the farcical.
"However, I understand that for the complainer it must have been a very frightening experience and I don't make any light of that.
"He is at a loss to explain this.
"He had been drinking heavily and was in a car with these other people and what he recalls is that this was essentially a dare.
"He foolishly got out of the car in a drunken state and went along with this.
"He realises this is complete madness and there is no rational explanation for doing this."
Sheriff Alastair Carmichael jailed Aitchison for one year and eight months.
He said: "Because of your record and the nature of this offence there is no alternative to custody.
"This must have caused Mr Cowie a great deal of alarm and distress.
"This was an attempt to rob a member of the public of his vehicle as he was trying to get into it."
Aitchison was jailed for 18 months in 2015 for riding a motorcycle dangerously while banned from the road in an incident that led to the death of his friend James Bryson.
The pair sped through residential streets at up to 70mph before Mr Bryson smashed into a car and catapulted into a garden, suffering fatal injuries.
Aitchison pled guilty to charges of dangerous driving and driving while disqualified and was jailed for 18 months and banned from the road for 12 years.