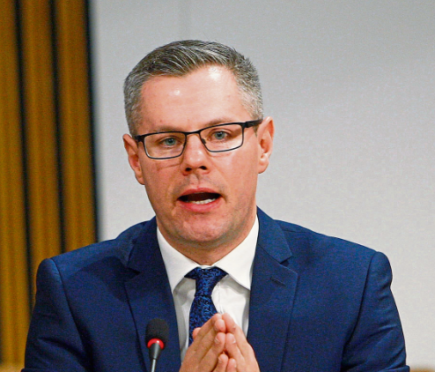 The tax gap between Scotland and the rest of the UK will widen after Derek Mackay unveiled a budget that failed to pass on the UK Government's income tax breaks for higher earners.
The finance secretary said "now was not the time" to cut taxes for the better off as he introduced a tax regime that will see those on £50,000 paying around £1,500 extra in income tax when compared with their counterparts in the rest of the UK.
In his draft budget, Mr Mackay confirmed that he would not be following Chancellor Philip Hammond's example and raising the threshold at which 40% higher rate tax kicks in to £50,000.
Instead, he said he would freeze the Scottish higher rate threshold at £43,430, where higher earners are already taxed at 41%.
Mr Mackay's decision to freeze the higher rate threshold came despite speculation that he might raise it in line with inflation. The freeze will affect an estimated 367,000 people in Scotland who earn above £43,430.
When the new regime begins in April, the Scottish Government calculated that an individual on £45,000 would pay £494 per year more than an equivalent person elsewhere in the UK. Someone on £50,000 would pay £1,500 extra and someone on £100,000 would pay more than £2,000 extra.
Last night, a leading north east business figure warned that having a more punitive income tax regime sent out the "wrong signal" when it came to trying to recruit dynamic people to the area.
Charles Skene, a prominent businessman and visiting professor of entrepreneurship at the Robert Gordon University in Aberdeen, said: "Due to North Sea oil and gas we in the north east have had a higher percentage of higher-earning people working here in the oil and gas sector.
"Our economy has taken a dramatic drop recently because of the down turn in oil and gas. There is a lot of oil and gas in the North Sea still, the question is how do we get it out at a competitive cost. What we need to help our economy is enterprising and ambitious young people.
"Making the tax rates less attractive than the rest of the United Kingdom is in my view a serious error."
The increasing divergence between Scotland and the rest of the UK was condemned by the Scottish Conservatives.
Tory finance spokesman Murdo Fraser said the budget "penalised" hardworking families.
Mr Fraser said: "It seems the expert warnings that a growing divergence would make it harder to recruit talented people across both the private and public sector have been roundly ignored."
Mr Mackay's budget also gave councils the leeway to raise council by 3%. Despite recommendations supporting the introduction of a Tourist Tax Mr Mackay said it was not right or fair to introduce it having consulted interested parties. But he added that the measure would be kept under review.
Mr Mackay said his budget was against a backdrop of austerity and the UK Government "careering" towards Brexit at any cost. He warned that he might have to "revisit" the budget in the event of a no-deal Brexit.
On public sector pay, the Finance Secretary confirmed Scottish Government policy to lift the 1% cap on wages. He announced a deal that sees a pay rise of 3% for those earning up to £36,500.
Pay will be capped at 2% for people earning between £36,500 and £80,000, and any increase for those earning more than £80,000 limited to £1,600.
But STUC general secretary Grahame Smith said the plan failed to recognise the "urgency" of increasing the pay of public-sector workers.
He said: "We are deeply disappointed that Mr Mackay's public-sector pay policy does nothing to make amends for a decade of pay cuts for public workers."