Scotland is on flood alert as heavy rain lashes large parts of the country.
Heavy rain is spreading from the south. Surface water was causing difficulties for motorists on Friday morning and ferry services were disrupted by high winds.
A number of high-profile events have already been cancelled across the country as forecasters warn conditions will only get worse.
The North and North East have already seen significant flooding in recent days and will be braced for the possibility of more to come.
Landslips force closure of Moray roads as council begin repair works
WATCH: Torrential rain causes flooding at the Highlands oldest stone bridge
The Met Office has issued a yellow warning for heavy showers and thunderstorms through to Sunday, and the Scottish Environment Protection Agency (Sepa) has 14 flood warnings in place.
Neil Armstrong, chief meteorologist at the Met Office, said: "This low-pressure system will bring challenging conditions, including unseasonably strong winds and heavy rain, from the west during Friday and Saturday.
"Summer storms – compared with those in autumn and winter – always have the potential to create additional impacts because more people are likely to be outdoors, especially by the coast.
"Additionally, with trees in full leaf they are more vulnerable to being brought down by strong winds."
Ben Nevis Climb
Dozens of supports preparing to climb the UK's tallest mountain today in memory of Inverness football coach Sandy Corcoran have been left disappointed after harsh weather scuppered their plans.
Mr Corcoran, founder of Inverness City Ladies, had lived with type one diabetes for several years before going onto develop kidney failure.
After being sick for more than four years, he passed away three days before Christmas last year, leaving behind his devastated wife Valerie, son Steven, 35, and daughter Ashley Mackinnon, 32, as well as six grandchildren.
In an attempt to keep his memory alive, a group of around 60 people had pledged to tackle the feat to raise vital funds for Raigmore Hospital's renal unit.
With a yellow warning in place for thunderstorms across the region,  the group have been forced to cancel their plans and instead walk from Inverness to Dochgarroch.
However, despite their best intentions the group have now been forced to abandon the idea completely.
Taking to social media, Sandy's Army said they were "devastated" by the news.
His family wrote:   "Great Scottish weather has forced us to rearrange our mountain climb.
"This is absolutely devastating for us we were emotionally ready as I'm sure our army was but your safety is the most important thing."
Have you had to cancel an event this weekend because of the weather? Get in touch by emailing digital@pressandjournal.co.uk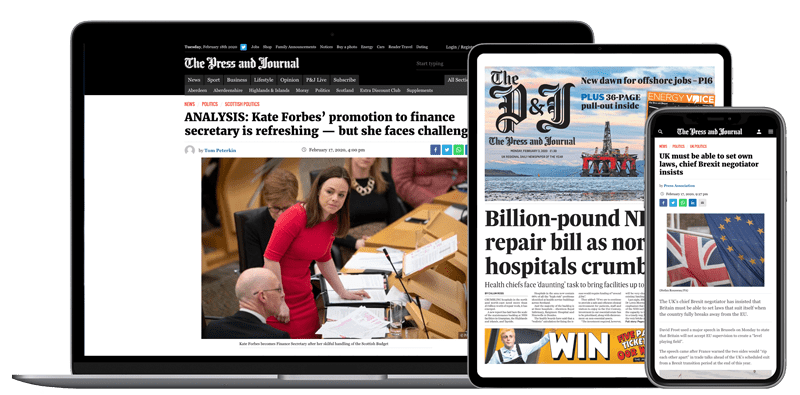 Help support quality local journalism … become a digital subscriber to The Press and Journal
For as little as £5.99 a month you can access all of our content, including Premium articles.
Subscribe