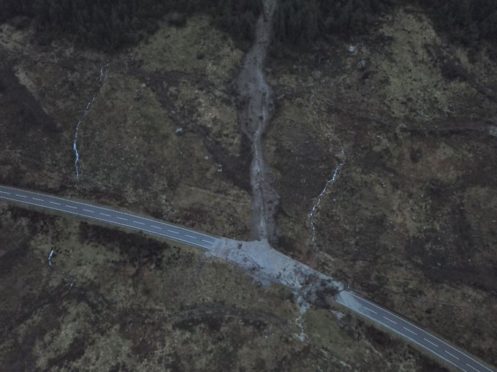 A trunk road in Argyll has re-opened following more than two days of disruption caused by a landslide.
About 1,300 tonnes of mud, trees and rubble have been cleared from the A83 Tarbet to Campbeltown road at the Rest and Be Thankful – the highest point on the route, at 803ft above sea level.
Road maintenance company Bear Scotland has reinstated drainage and installed a protective barrier along with traffic lights.
Forestry and Land Scotland has also carried out work on the slope above the road, stabilising boulders and removing trees destabilised by the landslide, which took place in the early hours of Thursday morning following heavy rain.
Bear spokesman, Eddie Ross, said: "We have worked hand in hand with Forestry and Land Scotland, in some very challenging conditions, to remove the debris and stabilise the slope.
"Temporary traffic signals and a concrete barrier have been put in place as a precaution whilst further works are undertaken off-road. We'd like to thank the travelling public for their patience whilst the clearance work was undertaken."
A 60-mile diversion was in place until the emergency diversion route, the Old Military Road, could be put into operation at around 11am on Thursday.
The emergency route is operated on a convoy basis. There were delays on Saturday morning when a lorry got stuck for a period of time. The main road re-opened with traffic lights on Saturday afternoon.