VIDEO: Fast food fans queue outside north and north-east McDonald's branches as they open for first time in months
Fast food fanatics caused long tailbacks at McDonald's branches as they opened for the first time in months.
The major chain has resumed drive-thru services across Scotland, with eight restaurants opening across the north and north-east at 11am.
The shutters went up at the Kittybrewster, Bridge of Don and Bucksburn sites in Aberdeen, and customers were also welcomed at Portlethen, Peterhead and Elgin.
People across the Highlands and Moray also flocked to their nearest restaurant as branches in Elgin, Fort William, Inverness and Nairn opened up their drive-thru facilities.
All branches were closed on March 23 and fans formed large queues as they relished the chance to tuck into their first Big Mac for more than two months.
But Bridge of Don councillor, Jessica Mennie, urged people to "be sensible" when deciding whether to treat themselves to a meal.
She said: "It's positive to see businesses starting to reopen safely.
"I know everyone is excited to get McDonald's again, I can certainly relate.
"However, its still important for people to be sensible when deciding whether to make a journey as we cannot have great long queues out onto the road from the drive-thru."
Each member of staff has now been provided with gloves and face coverings, whilst new floor markings and perspex screens have been fitted to minimise contact between workers and customers.
All McDonald's employees will be asked to confirm they are fit and able to work and contactless thermometers will be used to take their temperatures on arrival at the buildings for every shift.
Craig Duncan, owner and franchisee of restaurants in Kittybrewster, Peterhead, Elgin, Inverness and Nairn, said: "It is great for us to be able to get back to some form of normality, even if it is in a very limited manner.
"We have spent the last six weeks working out how we would do this, making the workplace safe for staff whilst operating at a level that customers can get some pleasure from visiting.
"It is working really well so far, we have been really busy and we are very thankful for customers for being patient because it is a bit slower.
"In every location we have put in measures to try and manage the traffic, working with local authorities we have done something a little different at each location.
"In Elgin, for instance, we initially had a snaking queue in the car park but we didn't think this would be enough.
"So, working with the council, we have temporarily closed the nearby Linkwood Place which has allowed cars to move easier."
Drive-thru customers will be allowed to spend a maximum of £25 per car and are encouraged to use contactless payment.
Though staples such as hamburgers and chicken nuggets will be available, the menu on offer is limited due to the reduced number of staff on hand.
As of yet, restaurants in Scotland are not offering delivery, as services remain limited to drive-thru locations.
In Inverness, around a dozen cars gathered at opening time with occupants waiting eagerly for their meals.
In Elgin, a low-key announcement of the drive-thru return resulted in a steady flow of customers throughout the day.
Fears had been raised that increased traffic may cause issues, but queues were dealt with in a prompt manner.
Inverness South councillor, Ken Gowans, said: "This will be widely welcomed in the community as folk look forward to getting some degree of normality back.
"In general when anything like this opens, whether it is a recycling centre or a popular fast food outlet, the expectation is that there will be a flurry of activity in the first few days and that can lead to traffic problems.
"I am glad that has not overly been the case.
"As attractive as it may seem to get a group of friends together, we would ask people to refrain from doing that and be sensible about their approach."
List of McDonald's open in your area
Aberdeen – Kittybrewster Retail Park drive-through
Bucksburn – Inverurie Road drive-through
Bridge Of Don – Broadfold Road drive-through
Portlethen Asda drive-through
Peterhead – Ring Road Industrial Estate drive-through
Elgin – Linkwood Place drive-through
Nairn – Balmakeith Retail Park drive-through
Fort William drive-through
Inverness – Inshes Retail Park drive-through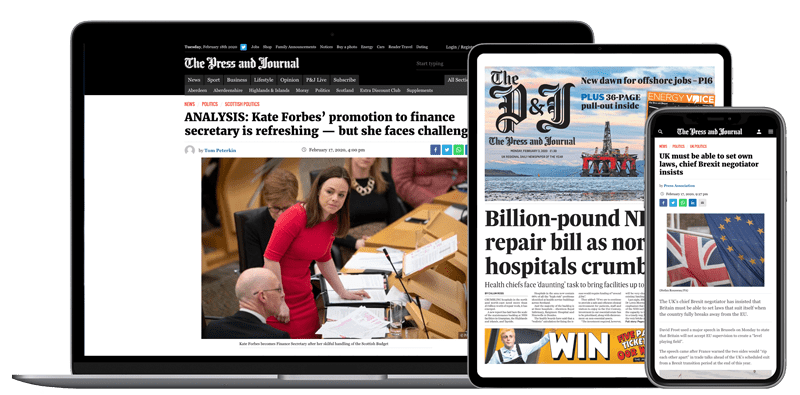 Help support quality local journalism … become a digital subscriber to The Press and Journal
For as little as £5.99 a month you can access all of our content, including Premium articles.
Subscribe