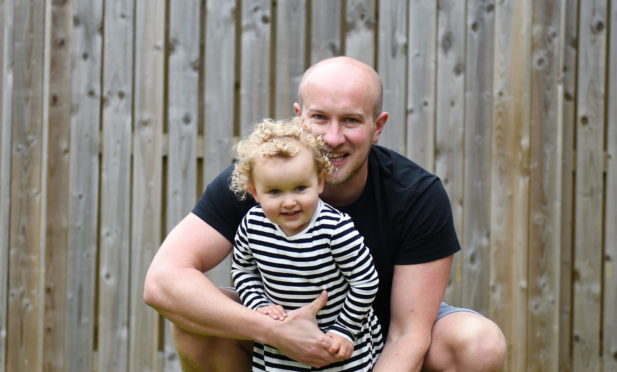 Father's Day looks set to be a sedate affair this year, with much of the hospitality industry still off limits due to Covid-19.
We may be celebrating in gardens instead of restaurants, and swapping hugs for Zoom calls and doorstep chats.
But that should not take away from the message; the opportunity to acknowledge the important role that dads can play in our lives.
For many households, the pandemic and subsequent lockdown has highlighted family dynamics like never before.
From who is the primary carer to who takes on the housework and home-schooling, we have been forced to confront the balance – or lack of it.
According to a recent study, women are doing more chores and spending more time with children in homes where there is both a working mother and father.
The Institute for Fiscal Studies and University College London interviewed 3,500 families, and discovered mums were only able to do one hour of uninterrupted work for every three hours done by dads.
But for every household where this may ring true, some families have experienced role reversal.
For fathers who are furloughed or unfortunately out of work, lockdown has enabled them to spend more time with their children. There is no more missing bedtime due to being stuck at the office, or juggling a 50-hour working week with the food shop.
For many dads, the last three months could well be the longest stretch of time they have been able to spend with their family since paternity leave.
With only 2% of parents splitting their entitlement to parental leave, could lockdown cause a major shift in attitude?
We spoke to three dads who have experienced a drastic change in family life as a result of lockdown, and discovered what they want to alter going forward.
Mark Taylor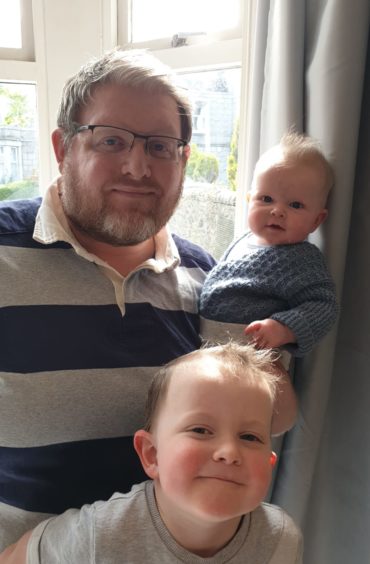 Mark Taylor was forced to spend eight months apart from his eldest son, Seth, and wife, Jennifer, when he relocated to Abu Dhabi from Aberdeen.
Jennifer was completing her studies to become a nurse and the family felt it was best Mark get settled before they started their new life together.
Having found an apartment, Mark worked as a senior cost controller for Wood Group.
"I relocated in January 2019, and Jen and Seth followed in September," said Mark.
"We were there for 18 months before I was made redundant. Covid-19 was the final straw for the project I was working on."
Jennifer returned to the UK with three-year-old Seth and newborn Ruairidh, who is now four months old.
"I was stuck there for another three or four weeks because all the flights were cancelled, before I finally made it home," said Mark.
There was no time to settle down after Jennifer started work as a newly qualified nurse. Although she works part-time, her 12-hour shifts are often back to back – meaning she must take the chance to sleep as soon as she gets home.
With family unable to help out due to restrictions, Mark has swapped a high-pressure job for caring for two young children.
He believes it has been a positive experience overall and he has relished spending time with the boys.
"I was contracted for 48 to 50 hours week" said Mark.
"I was home late in the evening, so Jennifer was the primary carer. The first couple of days when Jennifer was at work, I found it really tough.
"It was essentially 48 hours where I was in charge. I was just doing the basics and trying to keep everyone alive. Now I am much more relaxed.
"I also tidy the house or cut the grass, like what Jennifer would do on a typical day.
"I am getting more confident and relaxed."
Mark believes the arrangement has had a positive impact on his relationship with Seth and Ruairidh.
"I've always had a great relationship with Seth, he is a mummy's boy though," he said.
"Ruairidh is a daddy's boy, which is great. I like to think it is a result of me spending a lot more time with him.
"The experience has been eye-opening. When Jennifer isn't here, I really appreciate how much she does, for sure.
"I don't know if I was maybe slightly old-fashioned before, I am way more hands-on now.
"I am happy to muck in with anything. Before, I left more of it to Jennifer, even on days when I was off.
"Once you have to do it, you just do it."
Although Mark is currently looking for employment, he has found spending time with his sons a good distraction.
"I am not too upset that I haven't found a job straight away," he said.
"It has been nearly three months and looking after the boys has taken my mind off the redundancy."
Matt Irvine
Life is about to get even busier for Suzanne and Matt Irvine, who are due to welcome their second child at the end of this month.
They are already parents to two-year-old Lux and balance family life with their jobs in PR and hospitality.
Matt admits that Suzanne did 60% of the work, whereas he missed bedtime three nights a week due to his job as manager of Howies restaurant in Aberdeen.
He is currently furloughed and took over childcare while Suzanne continued to work until starting maternity leave.
Mark believes he has taken the initiative due to lockdown and relished the responsibility.
"I changed my job around two years ago when Lux was young, because I could see fatherhood passing me by," said Matt.
"I never felt I could finish on time in my old job.
"Prior to lockdown, I felt our balance was pretty good.
"Howies closed the day before lockdown started. We were very fortunate that work continued to be busy for Suzanne.
"She had already been shielding due to the pregnancy and working from a home office.
"She's a very dedicated worker and I didn't want to interrupt her. So I've looked after Lux the whole time.
"I've always been the cook of the house, so I've been doing the cooking and the housework that comes from having a two-year-old.
"Lux really gives me a purpose to get up in the morning, she keeps me busy.
"Time is precious with children and I've had so much more time. I've got to see Lux develop her speech and we've had such a fun time.
"Suzanne always jokes she feels like a third wheel. Mum is the novelty now, because Lux can hug me whenever she wants.
"The staff at Lux's nursery have been fantastic in keeping in touch with activity ideas, and both grannies have recorded themselves reading bedtime stories.
"I would say weeks one to four of lockdown, I went into most days with three or four activities.
"You set them up for the investment of your child doing it. I went into super-dad mode.
"But since Lux came to understand what her new world was, she started pushing the boundaries and her enthusiasm went down.
"You can end up beating yourself up. It's a challenge to relax. I've realised we need to go with the flow.
"It reinforced my view that family life comes first. As a country, we have made progress in the last 25 years. There is still an imbalance and it impacts on fathers' relationships with their kids and the career aspirations of mums.
"There are other countries which do it better."
Jamie McGowan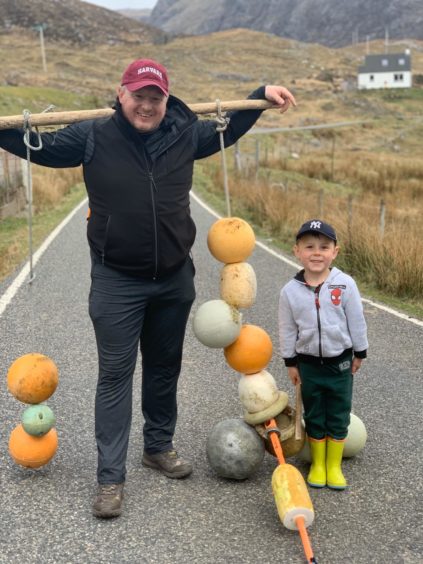 Jamie McGowan is used to spending time apart from his family, due to the demands of running three businesses.
He launched Essence of Harris with his wife, Deenie, five years ago – and the candle and home-fragrance company has been a huge success.
Jamie has perhaps paid the price, however, with long hours and frequent trips away.
The couple's son, Aaron, will turn five in July, and Jamie normally spends evenings and weekends with him.
He believes there are some "big changes" to be made as restrictions start to lift.
From working from home just outside Tarbert on Harris, to catching lobsters with Aaron and planting vegetables, Jamie is considering restructuring his business so he can spend more time with his family.
"I worked all day, every day. Any spare minute I had, I would spend with my family," said Jamie.
"But I've been away a lot; I was in New York in February at a trade show.
"So, Deenie would take Aaron to nursery and pick him up and she also worked a four-day week."
Both Deenie and Jamie have since become key workers during lockdown.
They decided to make hand sanitiser to try to keep their community safe, and their facilities company works in both police and fire stations.
"Aaron has still gone to nursery but the hours are 10 til two, Monday to Wednesday; the rest of the time, I'm with him," said Jamie.
"I've loved it, we've been catching lobster and mussels on our trips out.
"Aaron is at such a crucial age, he's engaging with the world around him.
"We've been swimming in the sea and doing jigsaws, it has been amazing to spend this time with him."
Jamie is now considering bringing in senior roles, to free up more of his time.
"We've got some big decisions to make," he said.
"Things have changed overnight because of lockdown.
"It has made it easier to work from home. I don't think people will be as keen to travel when you can use Zoom instead.
"Family comes first and I've honesty loved having all this time with my son."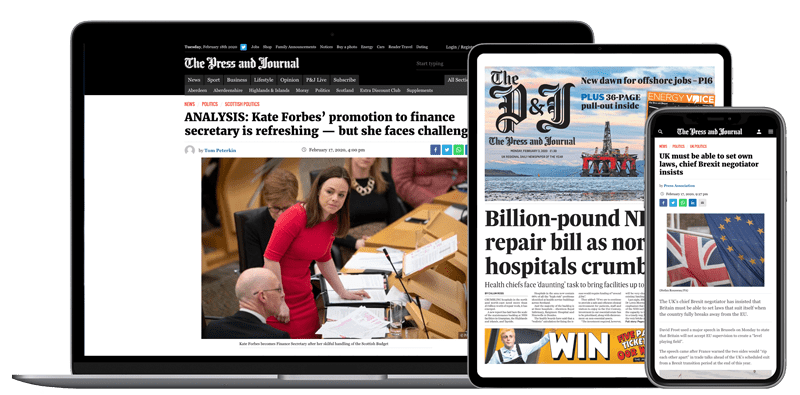 Help support quality local journalism … become a digital subscriber to The Press and Journal
For as little as £5.99 a month you can access all of our content, including Premium articles.
Subscribe