Homes in Royal Deeside were evacuated today as Storm Frank battered Scotland.
Flood alerts were issued for the villages of Marykirk, Ballater and Aboyne as high winds and lashing rain raised the level of the River Dee to dangerous levels.
Amongst the worst affected area was the village of Ballater.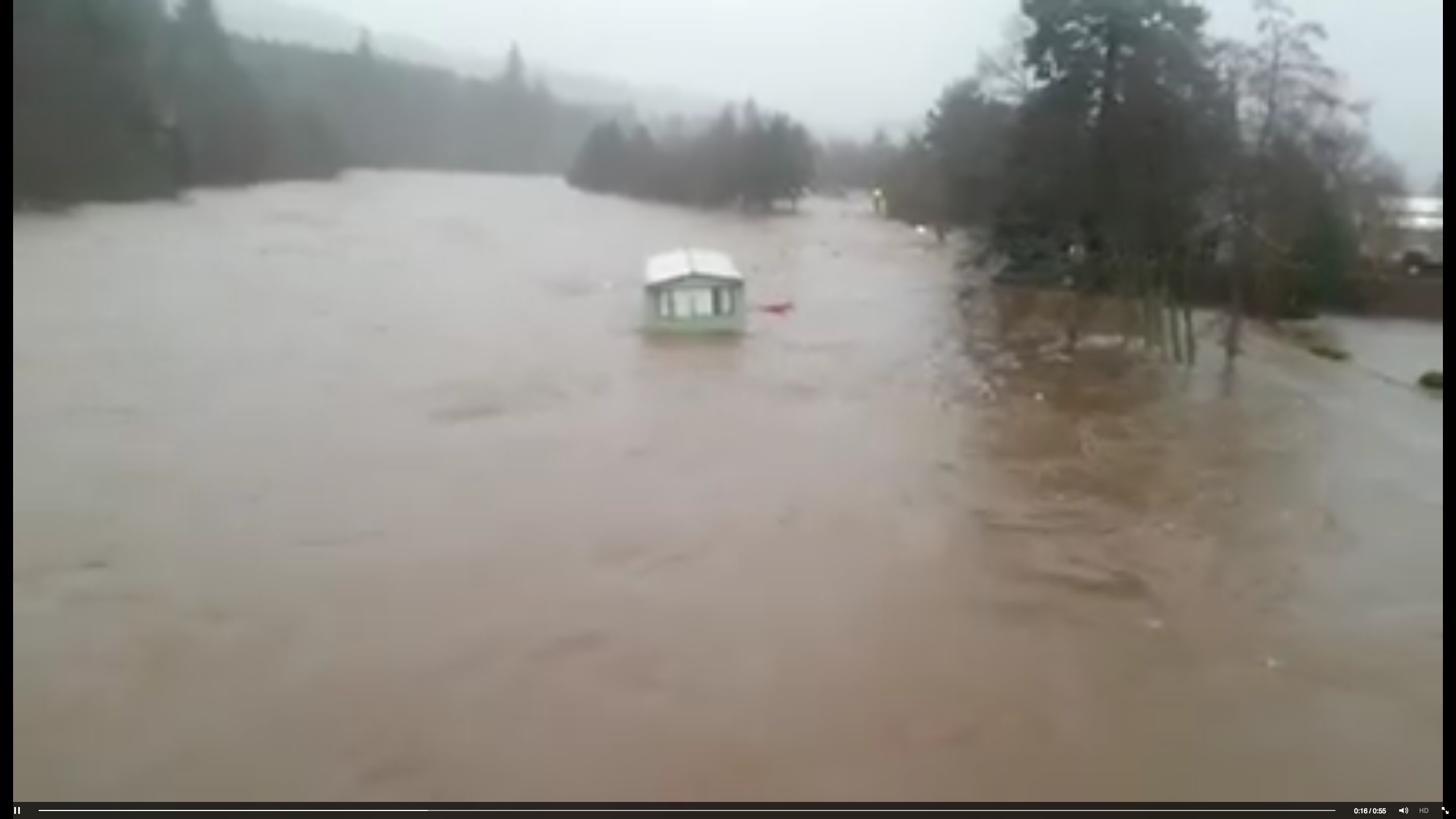 The Clunie Water – a tributary of the Dee which runs through the centre of the village – threatened properties as water levels rose throughout the morning.
And the main route out of the village, the A93 Ballater-Braemar, was closed by police after several HGVs got stuck due to large amounts of water on the road.
Residents at Braemar Caravan Park were reported to have contacted the emergency services over flooding fears.were called out to help people out of their homes around 8:45am, with Scottish Fire and Rescue Service (SFRS) sending one appliance to the scene.
Click here for more on the rescue operation in Ballater.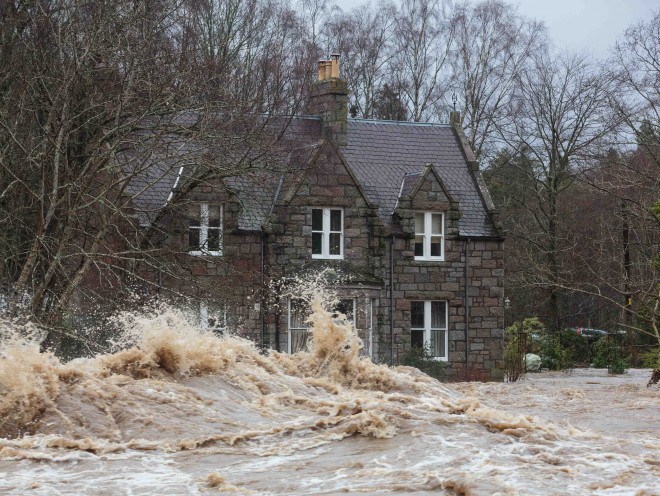 A SFRS spokesman said: "At the moment we are dealing with some rescues and evacuations in Ballater.
"There are also a few lorries stuck in water along the A93. That seems to be the most affected area."
A member of staff at Braemar's Invercauld Arms Hotel described the weather as "really bad" and said they were having to deal with flooding at the property.
Across the north-east thousands of homes were left without power as Storm Frank battered the north-east of Scotland.
Around 1,700 households in across Aberdeenshire were left without electricity in the early morning as gale force winds brought down power lines.
Affected areas included Fraserburgh, Dunecht, Kintore, Cruden Bay and New Deer.
An SSE spokeswoman said: "Around 1,700 homes are without power and have been throughout the night.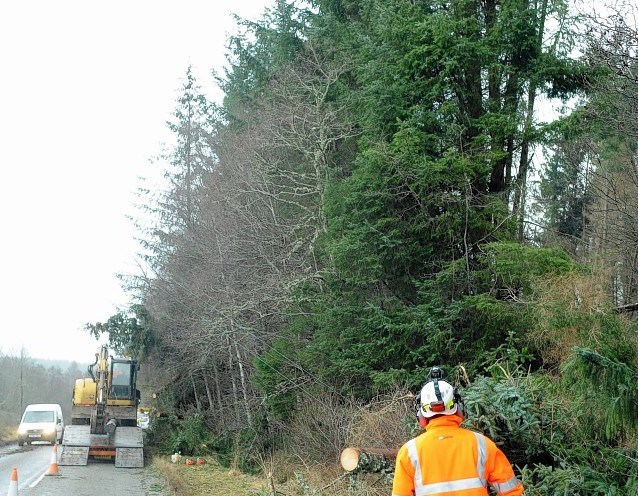 "We give our apologies to our customers.
"This has been caused by the high winds.
"We are working as hard as we can and all our engineers are out."
Police Scotland received calls reporting fallen trees across Aberdeenshire with one blocking the South Deeside Road near the Ardoe House Hotel.
The road was cleared by around 9am.
A flood alert was issued by SEPA for the whole of Aberdeen and Aberdeenshire, with a particular focus on Royal Deeside.
The agency warned: "The River Dee is expected to be high during this period.
"There will be a risk of flooding of low lying areas adjacent to the River Dee, this includes the caravan park, and properties on Dee Street, Ballater."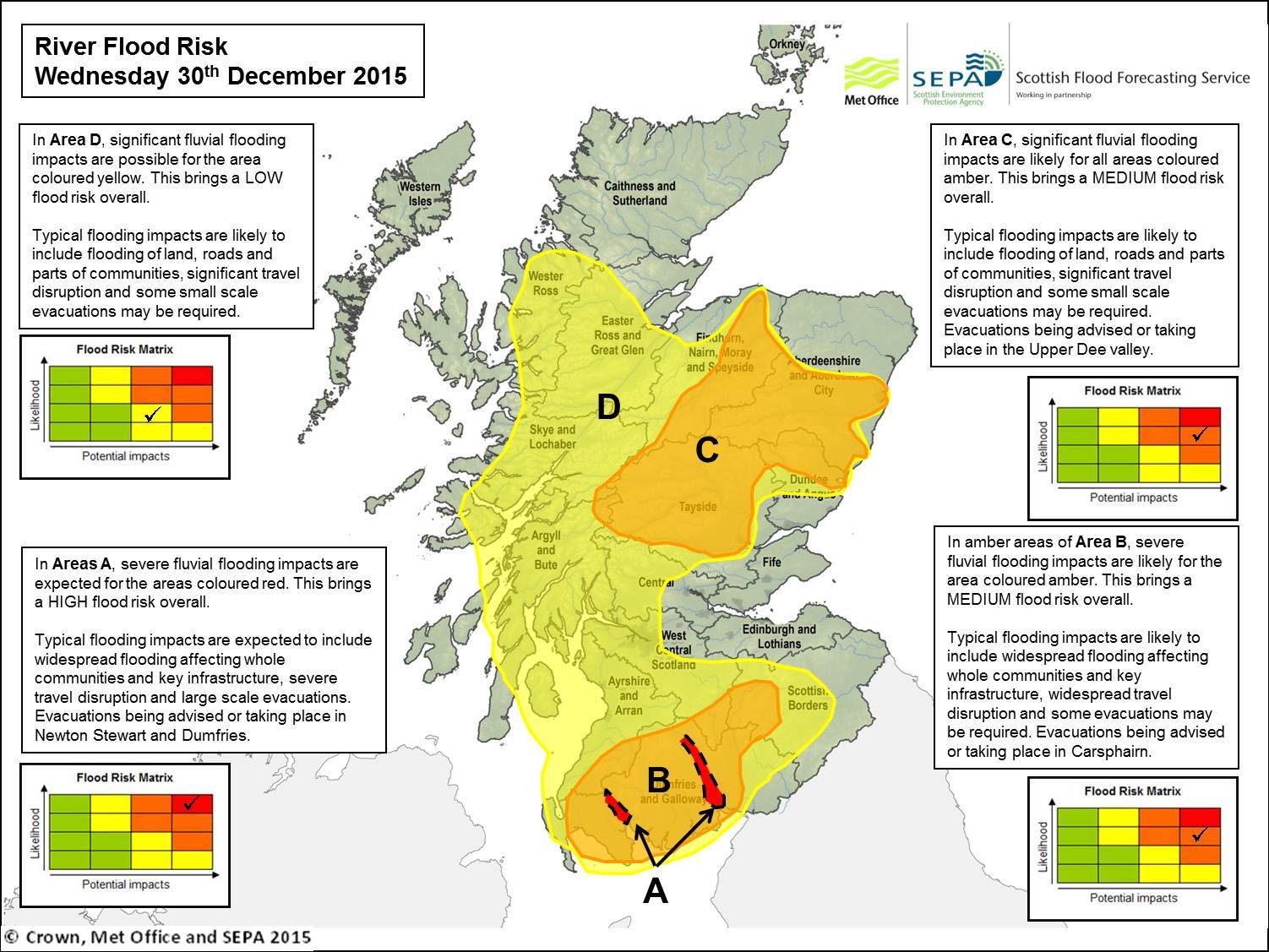 One man who lives opposite Balmoral Castle, the Queen's summer residence which overlooks the River Dee, said: "I've lived here for 64 years and I've never seen it this bad."
Another local described the water near Balmoral Estate as like "rapids".
Nick Mitchell, 40, had been visiting family in Ballater over Christmas when the river burst its banks yesterday morning.
Mr Mitchell, from Surrey, said the water was up to a foot deep in certain streets, with locals scrambling for sandbags to protect their properties.
He said: "My mother lives a bit further up the road so it has not come this far yet.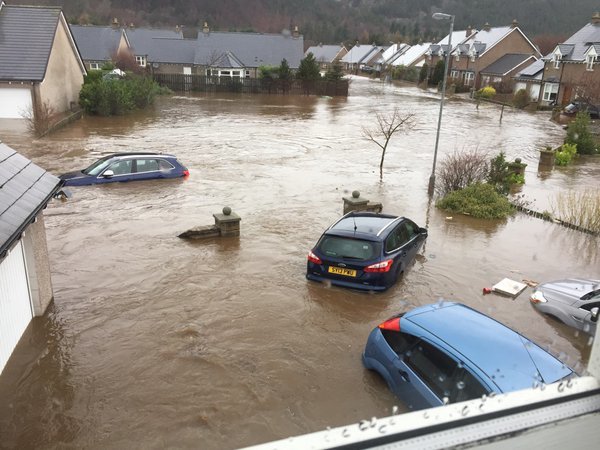 "It was above my boot at one point. It must be a foot or more in places.
"There's a bit of panic from shop owners, who are trying to get sandbags out. I'm not sure if they have seen it this bad before.
"It's hard to know what's happening down at the caravan park as you can't get down there at all.
"But when I was out I saw some rescue boats being prepared."
Braemar Mountain Rescue team was also roped in to help flood stricken homeowners in both Braemar and Ballater.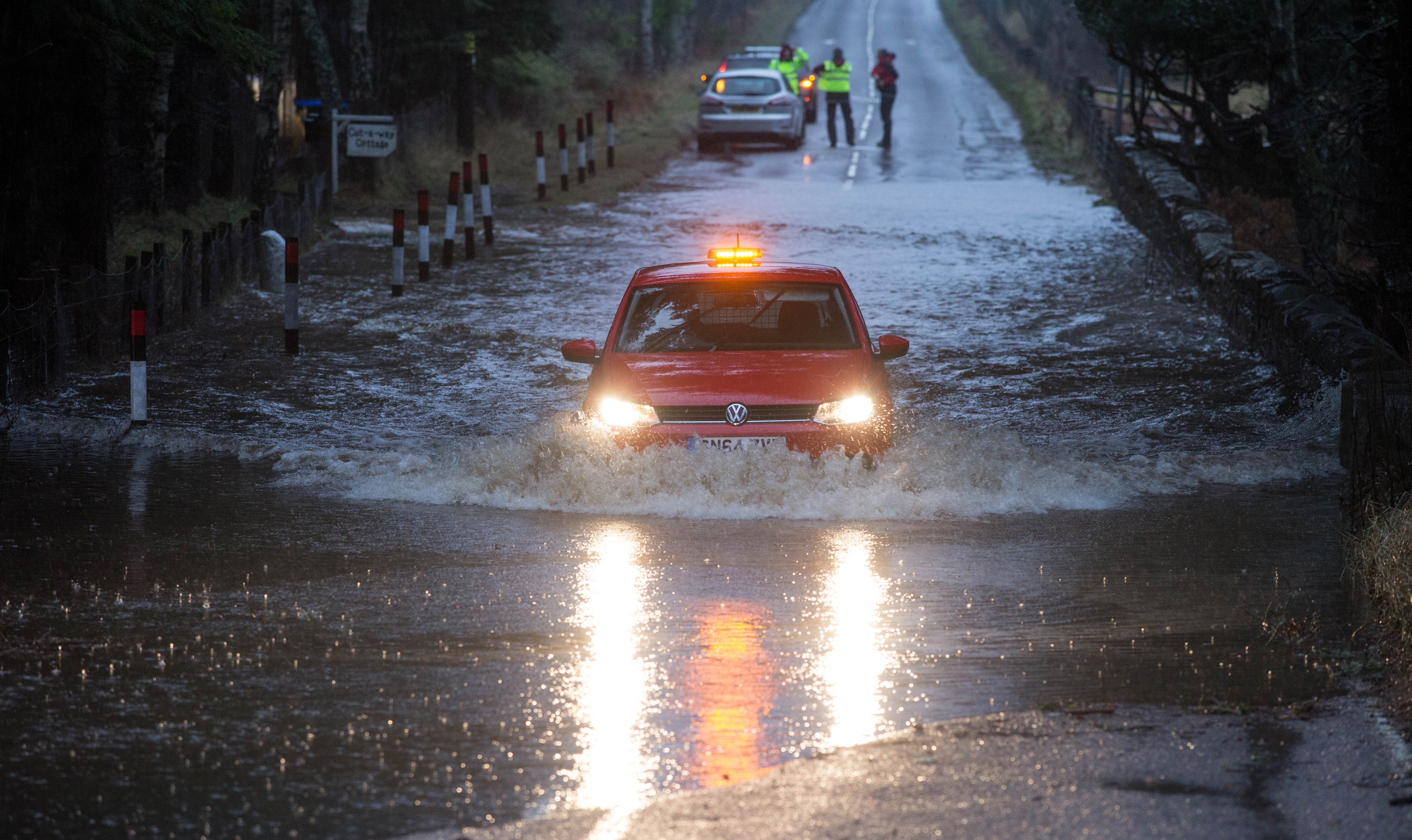 Richard Brown, the head of hydrology at Sepa, said: "The situation is still very much deteriorating.
"Although we have the 62 flood warnings in effect, we expect a big increase in that number as the morning goes by. Some of the smaller water courses have shown signs of peaking but the rain is going to continue and larger rivers are continuing to rise."
Scottish Transport Minister Derek Mackay said: "We expected challenging conditions and that's turning out to be the case. One of the ongoing issues will be the flood risk because the persistent rain will calm down later on in the day but we're still dealing with the risk of flooding to the transport system and indeed people's homes and businesses.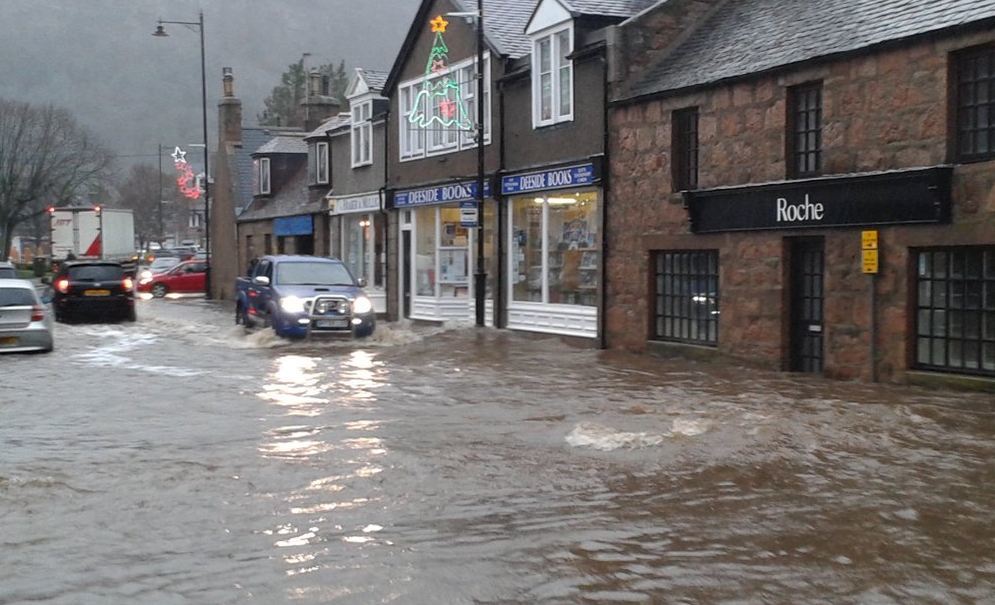 "Ministers met last night and will meet again today. We help coordinate and share information and ensure that all our agencies and partner organisations are connected and doing everything we can to both be resilient and keep the country moving."
He urged anyone travelling today to check weather information, plan their routes and drive to the conditions.
Meanwhile the road network and the rail network have flooded at various points.
There are reports that a person has been spotted in a river. 
There have been landslides and road closures. 
And a few animals have had to put up with more than seems fair.
A lorry driver has gotten stuck in floodwater at the bottom of Cairn O Mount Road in Deeside.
A lane  has been closed on A90.
And this incredible video has emerged of water exploding downstream in the Highlands after Storm Frank.