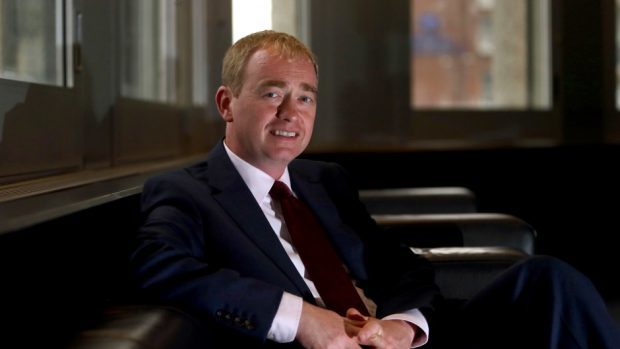 Liberal Democrat leader, Tim Farron, has thrown his weight behind the Press and Journal's campaign to keep Highlands and Islands Enterprise local.
The MP offered his support after discussing the issue with Shetland MSP Tavish Scott during his recent visit to the Scottish Parliament.
Ministers sparked anger after confirming their intent to scrap the HIE board and replace it with a national body.
Last week, more than a dozen north of Scotland Lib Dem politicians wrote to First Minister Nicola Sturgeon urging her to intervene to protect it. And yesterday, the party's Scottish leader, Willie Rennie, launched a petition in Inverness.
It describes SNP ministers as "hell-bent on further centralisation" and claims "stripping HIE of local accountability risks jobs and undermines HIE's ability to strengthen local communities."
Mr Farron is arguing that devolution should not stop at Holyrood, but trickle down.
He added: "I think it's clear that communities are best placed to take the decisions which affect them.
"Over the last 50 years, HIE has done a great job in providing bespoke economic development in the Highlands and Islands, and I hope the first minister will reflect on the great legacy of HIE before she makes any final decisions.
"Local communities must be empowered to take the decisions which impact upon them. So HIE must be saved and I support the P&J in their campaign."
Opponents have claimed the move would undermine half a century of progress in the Highlands, but the SNP administration insists there is no threat to HIE.
Economy Secretary Keith Brown has repeatedly rejected the allegations of centralisation and dismissed concerns as "nonsense", arguing HIE will continue to be "locally based, managed and directed".
He has also given assurances that HIE, which celebrated its 50th anniversary last year, will remain as an agency.
The organisation, which recently moved into £13million headquarters at Inverness Campus, claims to have played a part in increasing the population by more than 20% since coming into existence.
A review last month recommended that a new single board should be established to co-ordinate the work of HIE, Scottish Enterprise, Skills Development Scotland and the Scottish Funding Council.
A consultation is scheduled to be held as part of a second phase of the review.