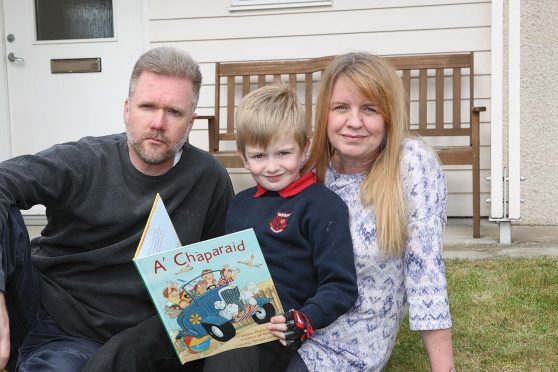 An Australian family due to be deported next week has been given an 11th hour reprieve.
Immigration Minister James Brokenshire said the Brains – whose seven-year-old son's first language is Gaelic – face "no imminent risk" of "immediate" removal from the UK.
He made the comments after Kathryn Brain, 48, was offered a job at the community-run GlenWyvis distillery project, near Dingwall.
The post is temporary but has the potential to become permanent as the plans progress and she hopes it will mean her family can stay in the country.
Mrs Brain, her husband Gregg and their son Lachlan moved to Scotland as part of a Scottish Government initiative in 2011.
They had planned to move from Mrs Brain's student visa to a two-year post-study work visa, but it was scrapped by the Home Office in 2012.
They have since tried to apply for a Tier 2 visa, for people from outside the European Economic Area who have been offered a skilled job in the UK.
Mrs Brain had previously lined-up a post that would have qualified but the offer fell through due to a change in the employer's circumstances.
Mr Brain, 49, then identified a suitable position at Highland Council but – in another stroke of bad luck – it was withdrawn.
Without a qualifying offer in place, the family faced having to leave on Tuesday.
The UK Government has been under pressure from all sides over the case with repeated interventions from Highland MP Ian Blackford and First Minister Nicola Sturgeon, among others.
During an urgent question in the Commons yesterday, Mr Brokenshire said he had twice extended the time available for the Brain family to secure the necessary permission to remain in the country.
He said: "We've not yet received an application from the Brain family for leave to remain under the points-based system but we will consider any application they make.
"The family does not face an imminent risk of immediate deportation."
Ross, Skye and Lochaber MP Mr Blckford urged the Home Office to "do the right thing" by giving the family time to meet the visa requirements.
Mr Brokenshire said the government announced it was closing the post-study work scheme in March 2011, while the Brain family arrived in the UK in June of that year.
The minister added they had known "for at least five years what the requirements would be – the need to get a graduate level job".
The Brains: How different life could be
The father of seven-year-old Lachlan said last night he was grateful his son was too young to realise how different his life would be if the family was forced to return to Australia.
But Gregg Brain said he was old enough to understand his friends would not be able to visit.
He said: "We're fortunate in as much as Lachlan is only seven and he has a seven-year-old's understanding.
"I don't think he realises that if we go back to Australia the only two things that will remain unchanged are his parents.
"I don't think he understands that and for that I'm quite grateful.
"He does understand that we may have to go back to Australia and that's further than his friends can come to visit and he's saddened about that."
Mr Brain said the family was in the process of resubmitting its visa application, but added he had "significant doubts" about whether it would be "physically possible" to meet the Tuesday deadline.
SNP MSP Kate Forbes, who represents Skye, Lochaber and Badenoch, said she was hopeful the Home Office would grant further leave to remain so the paperwork could be completed.
She also pointed to the "mass cry" of support for the family, adding: "The whole community across the Highlands, in Dingwall and further afield have been right behind them."