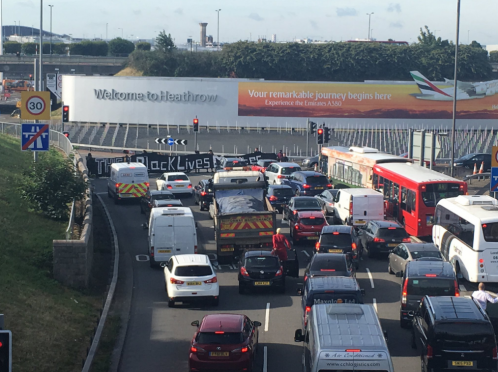 Black Lives Matter protesters lying on the road have brought traffic heading to Heathrow airport to a standstill.
The campaign group called for "nationwide #shutdown" in a post on social media on Thursday and there are reports of protests taking place in Birmingham and Nottingham.
Police said a number of people have been arrested at Heathrow and holidaymakers face traffic disruption.
A Scotland Yard spokesman said: " Police at Heathrow are dealing with a demo. We were called at 8.25am on the fifth to the M4 slip road at Heathrow airport.
"A number of people were reported to be blocking the road leading to the airport. Officers have attende d. A number of people have been arrested. One lane has been opened but there is traffic congestion. Police continue to deal with the situation at the scene."
A Heathrow spokesman said the protest does not appear to be causing people to miss flights, adding: "Heathrow supports the right to peaceful protest within the law, but the safety and security of our passengers, aircraft and colleagues, together with the smooth running of the operation, is paramount.
"We are sorry to those passengers whose journeys are being disrupted and we are working with the authorities to resolve the issue."
Pictures posted on Twitter show protesters lying in a row across the road beneath a banner which says: "This is a crisis."
Video footage shows police officers hunkering down next to the protesters, while chants of "black lives matter" can be heard as some people get out of their vehicles, which are bumper to bumper on the road into one of the world's busiest airports.
Nottinghamshire Police said they are aware of disruption in the city, and officers are at the scene negotiating with a small number of protesters.
LIVE on #Periscopehttps://t.co/jgJz7rPQ5w

— SymeonBrown (@symeonbrown) 5 August 2016
Photographs posted on Twitter show four demonstrators lying across tram tracks.
Video footage of the protest near Birmingham Airport shows police officers pulling demonstrators away from the middle of the road.
A spokesman for Nottinghamshire Police said screens erected at the scene of the protest are to prevent distraction for motorists.
Screens are also at the scene of the Heathrow incident, where video footage appears to show a number of police officers moving the protesters while they continue to lie on the road.
It would appear that the protesters are linked together in some way as the officers move them towards the side of the road as a group.
Black lives matter protest Nottingham town centre, chained themselves to the floor, all trams and most buses stopped pic.twitter.com/Z8hWeNRVSK

— Joe Howey (@howey555) 5 August 2016