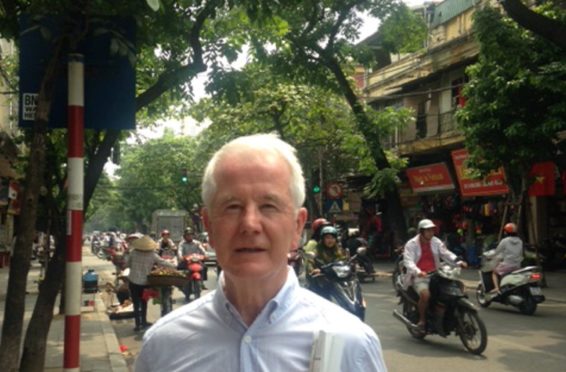 By the time you read this I could be in a Vietnamese morgue covered in a hundred tyre marks.
I arrived in Hanoi 
two days ago and managed to evade what seemed like most of the Vietnam capital's FIVE million motorbikes and scooters each time I crossed the road.
Traffic lights and pedestrian crossings are irrelevant, while it is not unusual to see a two-wheeled vehicle travelling the wrong way up a super-busy road. You're not even safe on the pavement as, in the narrower streets around the city's West Lake, scooters use the sidewalks to beat the queues, some with entire families – mum, dad and two kids – on board.
The remarkable thing about this chaos is that it seems to work.
At a highly-congested crossing, for example, where four lanes of traffic merge from all directions, the secret is to slowly pick your way from one side to the other, confident that no motorbike or car will send you to A&E or the local crematorium.
Thankfully, I have the assistance of a brave wife, unperturbed to test the water as I push her into the road and a thousand crazy bikers charge down on us. This is a woman of John Wayne status, insured up to her eyeballs and prepared to take the hit for her beloved.
I am happy to go along with this arrangement.
Mind you, pity help any cyclist who sneaks up behind her on a pavement in Union Street, Aberdeen.
Should this column fail to appear next week, however, you will know the mad Hell's Angels of Hanoi have struck.
trip revs up: I've so far managed to evade the scooters and motorbikes in Vietnam's Hanoi.
A thousand crazy bikers charge down on us
---
Proper facilities for luggage has been long time coming
How pleasing it was to learn that the wee man tasked with pedalling Aberdeen International Airport's baggage carousel from underneath, has been stood-down.
A proper luggage facility was a long-time coming, though we're grateful for small mercies.
Just don't lose my case when I return in the near future
---
US president is top Trumps when it comes to entertaining us
Many months ago I wrote that I wanted to see Donald Trump elected to the Presidency of the US because he would keep us entertained on a daily basis with his nonsensical approach to politics.
I have not been disappointed.
This is a man who talks about doing deals and, rather patronisingly, told a scowling Pope in the Vatican: "Anything you need, give me a call."
It can't last, of course, and like many I doubt he'll see out his term.
As for Indyref 2 … nope, can't envisage that.