Sir, – The basic economics of Scottish independence have been totally ignored by Nicola Sturgeon for the last eight years.
She has been clearly out of her depth with the economic basics and has ignored the realities presented.
Instead, she has finally chosen the easy option of ignoring the problem leaving the SNP totally in limbo.
As a result, popular support has completely atrophied.
There is a complete sense of failure and she has finally opted out completely and has just resigned.
We now have three candidates (young lemmings) all apparently quite ready to go over the cliff without a realistic plan.
The older lemmings have either joined Nicola in opting out or declined the challenges as too difficult.
Nicola's legacy is a completely blank cheque. There is no plan, just chaos exemplified by the total disaster with the ferries and the blatant dishonesty in their membership numbers and overall decline and deterioration in Scotland's self-government.
This overall uncertainty and lack of popular support for the gender reform legislation has resulted in a 42% decline in the paid membership of the SNP.
From a post-Brexit peak of about 125,000 members in 2019, to only about 78,000 members having actually requested a vote.
It is anticipated that only about 54,600 will actually vote. Sturgeon has clearly totally misjudged what is acceptable to SNP membership.
Her invincibility has evaporated. Pride often comes before a fall.
David Philip, Knockhall Way, Newburgh.
We will inherit our first minister
Sir, – As a floating voter who has always voted for a candidate based on my judgment of an individual and not on the basis of a party and its doctrines, I now find I and the 5.5 million folk living in Scotland will have a first minister foisted upon us by a far from democratic system.
The SNP with a registered membership of 72,000, which is only 1.3% of the 5.5 million, have decided they will elect a first minister from three individuals who have put themselves forward for the post, not having been chosen as such by the "masses", but self-selected.
They have then had to seek approval from their card-carrying membership by selling themselves, primarily it would seem by slanging off their fellow party members or contestants.
Subsequently, if no clear-cut winner appears, the victor gets the job by hand-me-downs, ie by inheriting second hand votes. Now if the party faithful choose that system to elect their party el supremo from their 72,000 members so be it. But then for the majority of Scots, ie 98% plus, to be told we are to inherit this soul as the FM for Scotland, this surely is not democratically acceptable.
There has been, for the last two years or so, lots of talk coming from Holyrood about the next election being called a "de facto" election with regard to an independence vote.
Perhaps the three standing for the FM's job along with the other party faithful should have had the courage to stand down and call an election allowing the entire 5.5m inhabitants of Scotland to decide who they want for FM and from which party.
Alastair Armitstead, Achiltibuie.
Thank goodness for clarity!
Sir, – I would just like to express my gratitude to Sir Keir Starmer for pointing out the current leadership contest grabbing daily headlines here in Scotland isn't an election for a bowling club president.
To be honest, I was wondering which Scottish bowling club was of such importance that the contenders were travelling the length and breadth of the country trying to convince their membership that they were the best choice, but thank goodness for one of England's sharpest legal intellects in providing clarity.
Thanks also to the many unionist politicians, journalists, columnists and correspondents for providing their incisive advice that, for the SNP to survive in any form whatsoever, it is imperative that the membership doesn't waste their vote on a principled, honest, fair and progressive candidate such as Humza Yousaf.
I am grateful to them for conveying their obviously insightful and profound knowledge of all things SNP, and for explaining in language, that even simple folk like myself can understand, that voting for Kate Forbes is the best way forward to ensure a united party and a united country – and, who knows, it might even lead to independence one day (maybe in several generations time, obviously). I hadn't realised they actually cared so much for our cause – maybe I've been doing them a disservice?
Thankfully, I don't require the intellect of Sir Keir to realise that if unionists are endorsing and fawning over Kate, whilst bad-mouthing and demeaning Humza, then Humza must be the obvious choice for first minister!
Douglas Black, Alford.
Funding during the good times
Sir, – James Noel (Letters, March 21) raises an interesting point. He castigates Jenny Gilruth (transport minister at Holyrood) for inadequate funding to our roads and rail infrastructure while, simultaneously, informing us that over £50 billion of revenues were accrued by the Exchequer from north-east Scotland.
In these straitened times, it is understandable that Holyrood has to put the brakes on expenditure. In times of plenty, which Mr Noel accedes to, there was no reason why Westminster could not have carried out the various projects however. They were, fairly obviously, in the national interest. I wonder why they didn't happen? Maybe some of our unionist politicians would care to explain?
Ron Campbell, Richmond Walk, Aberdeen.
Not getting things right for Fittie
Sir, – So Councillor Dell Henrickson is concerned about overcrowding down at Aberdeen beach and Fittie if vendor licences are granted?
Well to me personally it makes not one bit of difference if people want to enjoy walking along the beach grabbing a cup of coffee/tea when or wherever they want, even walking around the Fittie village to me is no problem.
What he should be doing, to help the Fittie residents as he's so concerned, is putting more effort into getting a proper regular bus service reinstated, not the pathetic service that is in place just now.
Brian Wilkinson, North Square, Fittie, Aberdeen.
Why I have regular 'pops' at the SNP
Sir, – Ron Campbell (Press and Journal, March 22) answers in his own letter the reason why I have regular "pops" at the SNP government in Holyrood.
He states that, per head of population, Scotland has more doctors, nurses and police officers than England so why, I continually ask because I know we have more resources, do we not have a more efficient police force or NHS? The reason is simply poor governance.
He also states that we have more young people leaving school with more and better qualifications but that is not true in the real world.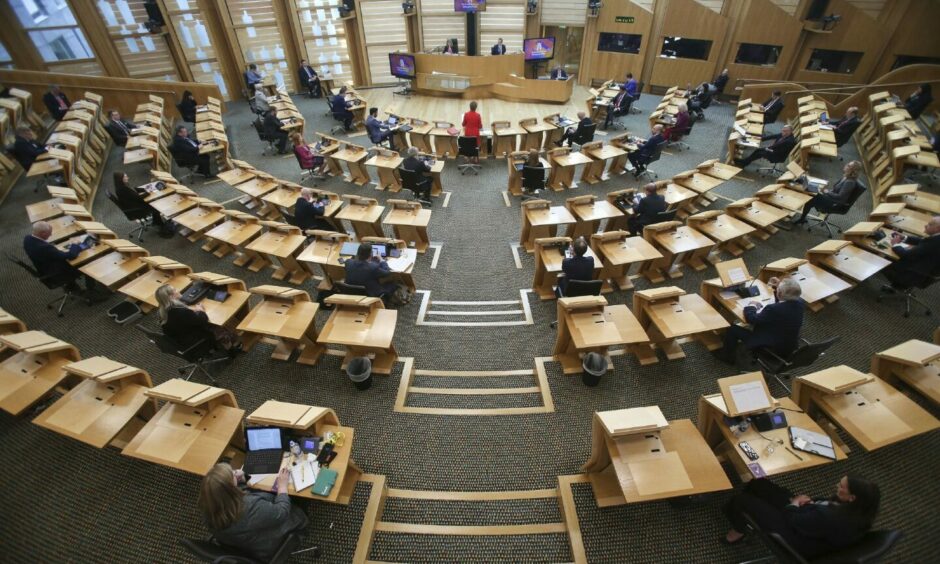 The SNP government have continually lowered the pass bar to increase the level of "qualification" but the view of employers, not perceived, is that young persons are not as well rounded educationally as they should be.
The last week has shown us that Holyrood has been more concerned with perception of government rather than actual government.
We now know that SNP membership numbers have fallen with the ill conceived marriage to the Greens and disagreement over the detail of the Gender Recognition Reform Bill as major reasons.
This shows that even SNP members were unhappy with the direction of the party, so why should the general public of the country believe they are being governed with integrity?
That very accusation levelled at Westminister regularly by SNP ministers is now seen as hollow because they have been shown to be every bit as bad.
Walter Service, Fairview Manor, Aberdeen.
CalMac ferries are a bit of a joke
Sir, – I might be proved wrong, but I think the two CalMac ferries will end up being christened "MacBoaty No-Floaty 1" and "MacBoaty No-Floaty 2".
Angus Jacobsen, Grange of Kinneff, Inverbervie.
Postbox gone without notice
Sir, – Just imagine it – you go to post a letter and find the postbox removed. Well that is what has happened to the only postbox in Auldearn. It was placed there in George VI's reign, then all of a sudden without any consultation it was taken away on March 3.
The effect of the unacceptable reply by the Post Office is that a new postbox might be put up but it is likely to take six months.
Since then I have on four occasions had to drive into Nairn to post urgent letters (only a five-mile round trip). It is more difficult for people without a car. There has been no explanation as to why the postbox was taken away. Perhaps you can persuade the Post Office to right this wrong speedily.
John Dale, Manse Road, Auldearn.
English model serves the elite
Sir, – A House of Lords committee has slammed the UK water industry for the poor state of the UK water sector. Except that "UK" doesn't include Scotland or Northern Ireland where water is publicly owned, or Wales where it is run by a non-profit, but just England where 10 private water companies provide dirty and expensive water to consumers.
Water is essential for life, so why was it privatised under Thatcher? Never mind that she would have privatised her grandmother if she'd had the chance, did water privatisation deliver, as promised, a cheaper product more efficiently?
No. Household bills are higher in England; private equity firms and foreign governments feature prominently in the ownership profile; high profits and big shareholder pay-outs are common; the English companies are carrying a rising amount of debt, leaks are rife and they are routinely dumping live sewage into English waterways. The clean-up costs required to rectify this sorry state of affairs most likely will be dumped onto consumers.
Now look at Scotland. Water is a publicly owned utility, responsibility of the Scottish Parliament. Scottish Water has invested a record amount in infrastructure so that bills are lower than all the English companies and the water from the taps and in Scottish waterways is far healthier and cleaner.
Of these two alternative ways of providing a public good like water, which is preferable? It's not hard to extrapolate from this example that public ownership and regulation of other public goods such as energy, health, education, and transport, best serve the people's interest, not the English model that enriches an international financial elite.
Leah Gunn Barrett, Merchiston Crescent, Edinburgh.
Estate will not focus only on trees
Sir, – It is disappointing to see Peter Clark assert that our recently purchased Glenprosen Estate will be "solely planted with millions of trees" (P&J, March 22).
Our intention has always been to deliver, at landscape scale, a variety of land uses that are integrated with those of neighbouring landholdings.
We shall be consulting on our proposals in due course.
David Leven, Forestry and Land Scotland.
Call up criminals not honest locals
Sir, – I thought it was April Fools' Day when I read honest locals have to "roll up their sleeves" to clean up Union Street (Evening Express, March 23).
There are legal restrictions – health and safety, insurance and training have to be assessed.
How much will this cost? There are hundreds of convicted criminals ordered to do hours of unpaid work who could be assigned jobs.
Arrest graffiti artists and get them to clean off their illegal work. Arrest litterbugs and get them to pick up litter. Arrest people who spit out chewing gum to scrub the pavements!
What has happened to the millions of pounds for the city regeneration programme?
Are the Aberdeen Chamber of Commerce, Aberdeen Inspired, Aberdeen City councillors and Opportunity North East going to "roll up their sleeves" and help?
T Shirron, Davidson Drive, Aberdeen.
Union Terrace best site
Sir, – If Aberdeen City Council wants Christmas visitors back, then Union Terrace is a must for this year's attractions.
It adjoins on to bottom half of Union Street and Belmont Street, where shops etc are easily accessed.
It would be more feasible and have more room for the public and visitors.
It's proven before that this is a better preference for visitors.
With the gardens being the main attraction, it is a must.
Joseph Durno, Cummings Park Circle, Aberdeen.