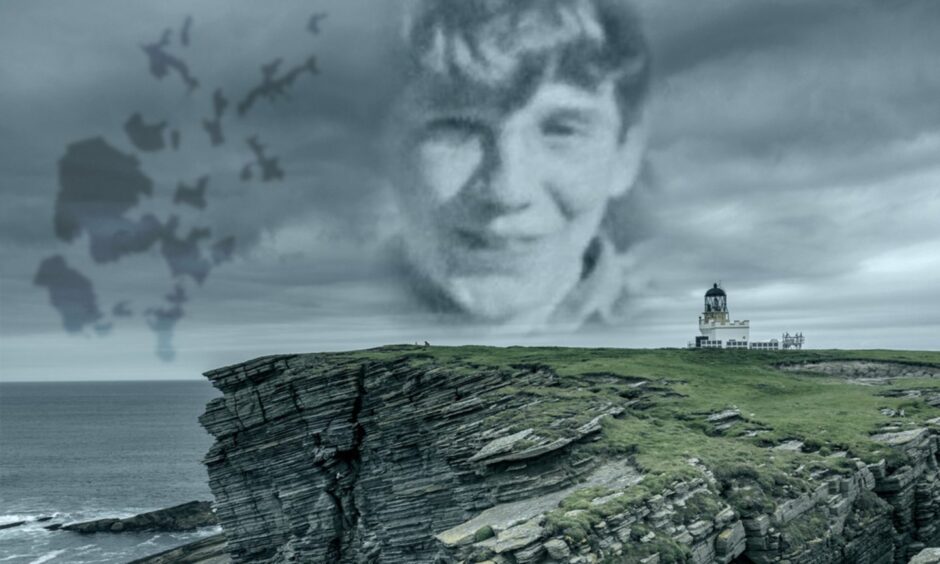 To return as a grown-up to the scene of years of unimaginable childhood pain and abuse takes courage.
And that's an understatement.
Henry Willsher decided to take that step, not knowing what he'd find and how he'd feel.
He was one of the 15 'W' children at the centre of notorious child abuse case on the Orkney islands, with his family under the eye of social services since the mid 1980s, and many of the children in and out of care.
Henry kept a diary of his return visit to the Orkney islands last year which he has shared with the P&J.
Serious abuse by father
There was serious abuse in the Willsher family by the father, of a sexual nature towards his eight daughters, and brutal physical abuse towards his sons.
Henry wrote up his story two years ago in his book 'Whatever Happened to the 'W' Children', describing what he had been through and how it threatened to destroy the rest of his life until he found a form of salvation through the teachings of Eckhart Tolle.
But there was a parallel story which was to affect many other families and have long-lasting consequences across the islands.
In 1991, children from nine Orkney families were dragged from their beds in the dead of night and put into care on the mainland. 
It was for their own protection, the authorities argued.
Accusations of Satanic Ritual Abuse
There was Satanic Ritual Abuse (SRA) going on in the islands, they claimed.
They based this on answers to leading questions posed by social workers to some of the W children.
SRA was the bogeyman all social workers were primed to look out for at that time, because there had been a case of it in California, in small isolated communities.
The social workers decided this must be what was happening on the island of South Ronaldsay- without even the flimsiest of evidence.
Henry said: "We didn't know we were guinea pigs for a completely unfounded theory, ridiculous in nature and grotesque in morals that was about to be searched for through our family.
"If anything like that had been going on, everybody would have known. Everybody would have seen it. You can't hide anything in a community like that."
Many victims in the fight for justice
There were many victims among those who tried to stand against the tide of what now comes across as madness, and do the right thing.
One victim was Reverend Morris McKenzie and his wife Jane who had untiringly tried to help the W family over the years.
Henry writes: "They were questioned about hooks, symbols and what they knew about satanic ritual abuse.
"Morris was told he had apparently been dancing in a quarry, gyrating, while hooking children in from a larger circle.
"This poor old man, suffering the effect of angina already, wasn't capable of dancing."
A later inquiry would find that the scraps of evidence put together by the social workers were gleaned through a completely discredited form of leading questioning of children too damaged to understand what was going on, and grinding down of other 'witnesses' into agreeing to whatever was suggested out of desperation.
Fighting tooth and nail
Meanwhile, the affected families fought tooth and nail for the release of their children.
Eventually the social workers' case came to court and was thrown out in a day by presiding judge Kelbie.
Henry writes: "He'd listened to the tapes and gone through all the evidence.
"He was often disgusted to hear the leading questioning and threw the social workers' application to proceed out, demanding the children be sent home.
Social workers criticised
"The judge criticised the social workers involved saying that their handling of the case had been fundamentally flawed.
"He made it clear that he didn't think any evidence had even been provided, other than ill-gotten confessions, extracted under duress."
The children were returned, but of course that wasn't the end of the saga for the families involved as they struggled to come to terms with what had happened.
So, what happened when Henry landed back at Kirkwall?
Henry wasn't sure what kind of reception would greet him when he landed at Kirkwall airport last year after a gap of more than two decades.
He revisited his old haunts, met up with old allies, and was approached by people who recognised him.
During his five days 'home' — for despite the trauma, Orkney still rushed back to him as home — Henry and many of those he met wept rivers together.
Some chided him for the explicit descriptions in his book of the dark world he fell into as a young adult.
There were no obvious pathways to healing, Henry had to find those out for himself.
That journey took him into the depths of darkness, despair, drugs, sex, suicide attempts.
The book was his own story
Others chided Henry for not writing enough about the efforts made to fight for the return of the families, and he explained that his book was really his own story.
But on his return trip, Henry began to learn the full extent of what had been done to get the children back and prevent more from being taken.
A lady rushed up to him, and Henry remembered her as the local shopkeeper at the time of the case.
Road blocks
Henry writes in his diary: "She explained how she and others on the islands had offered to man the road blocks to protect more children being taken.
"As she described her vivid memories, she recalled the sense of camaraderie she experienced fighting back against the intruding social workers. She was one of many, nameless to me, heroes of the community that I was now meeting.
"'Thank you!' Is all I felt able to say, unsure of what else I should say."
This type of encounter was repeated many times during Henry's stay.
At church, he met a woman he'd been at primary school with, Kate.
She made her feelings clear about Henry's book, which it seemed that just about everyone on the island had read.
Mixed feelings by some islanders
Henry wrote in his diary: "Kate explained how it skipped the important points about a false accusation being levelled at the families.
"She thought I hadn't mentioned other members of the community who helped me and my siblings, eventually get home.
"We departed with a hug and I reasoned I'd not hugged people so much in a long time."
Henry was reunited, in a sea of tears, with Sandy and William McEwan who were like a surrogate family to him during the troubles and who stood firm against the social work department.
"They had their own children," Henry reflects in his diary, "and I often wondered they felt neglected because of the selfless attention they offered to the 'W' children.
The W children posed a significant challenge to those who tried to help
"Loud and ill-educated, we shouted and screamed as we felt worried or excited, we were a significant challenge for this couple, yet, because they had a demonstrable history teaching troubled children and building a loving home of their own, they were ideal for the job, but what a job."
Amid many local heroes in the fight against the system, Henry says the stand-out hero of the horrific saga was Katherine Kemp, the Children's Reporter of the time.
She was treated like a pariah in her profession for standing up for the families, and her husband was falsely accused of setting fire to her office and destroying vital evidence.
Henry was reunited with her too on his return pilgrimage.
He records in his diary: "Katherine gave such a vivid insight in to the struggles the community had to face, not just to get their kids back, but the false accusations they had to clear the communities' name of.
"She detailed a number of individual islanders, from doctors to teachers, all with their own input to the struggle against the accusers.
Stories and tears flow
"Indeed, more stories exchanged and tears flowed as well as compassionate laughter.
"We parted with more hugs, me feeling great to have said thank you in person to Katherine Kemp and the struggles Orcadians I never met went through on our behalf."
Henry reflected on his time in Orkney the night before he left.
"I found it hard to sleep; engulfed in admiration, gratitude and inspired by all the people I'd met and the story they had told me about their struggle throughout the Orkney case and how the world soon forgot their struggle.
"Finally, for me, the experience had given me something very precious, that I had been searching years to find, closure."
Henry is now busy reviewing and expanding his diary of the trip, thinking of offering it for publication as a companion to his first book.
More like this:
Remembering the Orkney child abuse case: How survivor turned his life around