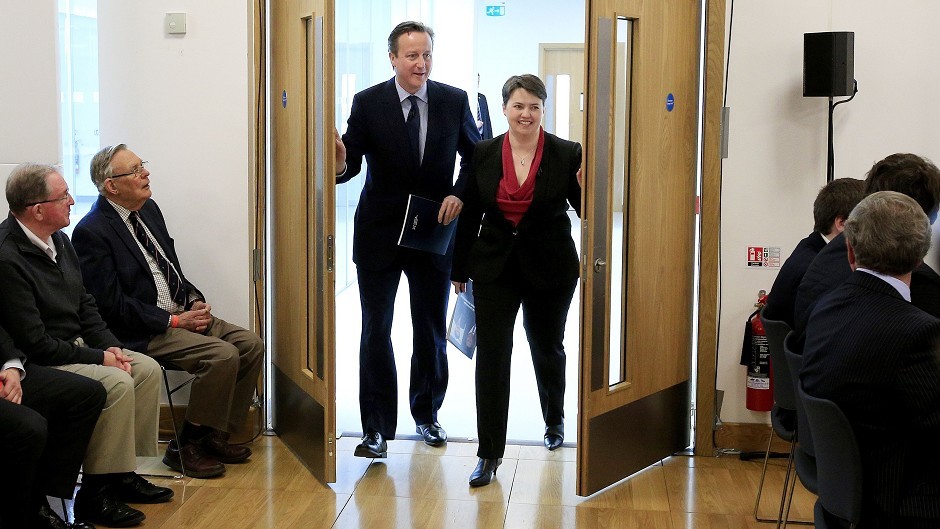 Prime Minister David Cameron has claimed that Labour and the SNP were in danger of forming a "coalition of chaos" with Ed Miliband at the helm.
He said both parties were intent on borrowing more money and increasing taxes which would be a "terrible prospect" for the UK which is now in economic reovery.
Mr Cameron insisted that an overall Tory majority was "achievable" on May 7, despite polls pointing to a hung parliament because the party only needed to win an additional 23 seats on top of the ones it held in the last parliament.
He claimed the Liberal Democrats were facing potential wipe-out across the UK.
Mr Cameron said: "What that means is Ed Miliband can only get into Downing Street on the back of support from the Scottish National Party, who will exact a terrible price in terms of even more borrowing, even more spending, even more unlimited welfare and even weaker defences.
"That is the terrible prospect this country faces.
Mr Cameron claimed the Tories were the only people who can "stop this dreadful proposition of a weak Labour leader propped up by the SNP wrecking our country".
"Together, they pose a clear threat to the future of our United Kingdom – a coalition of chaos," he added.
"The SNP acting as the chain to Labour's wrecking ball, running right through our economic recovery."
Mr Cameron said the Conservatives were the party "with a plan that is turning Scotland around".
Scottish Conservative leader Ruth Davidson said the party decried the "soggy centre-left consensus" and would be cowed no more.
"We are willing to challenge and to fight for a better deal for working Scotland," she added.
"And our opponents better be looking over their shoulders, because we are coming for the SNP and we are coming for Labour."