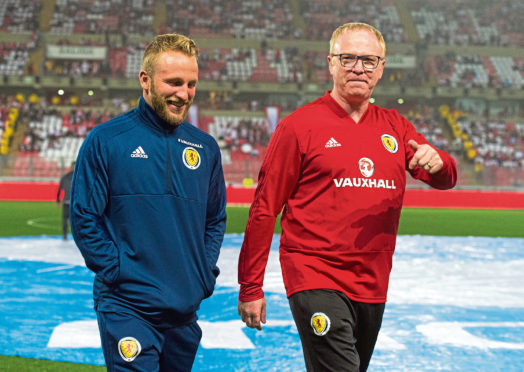 Former Aberdeen midfielder Kenny McLean is relishing a special night at the Azteca Stadium as Scotland look to upset World Cup-bound Mexico.
Estadio Azteca in Mexico City, held over 100,000 spectators for both the 1970 and 1986 World Cup finals and more than 80,000 fans are expected tonight to see off Juan Carlos Osorio's side.
The game kicks off at 1am GMT and will be the final game of Scotland's tour of the Americas following the 2-0 defeat to Peru on Tuesday.
McLean, who returned to parent club Norwich from Aberdeen this summer, is keen to sample a memorable night in one of the world's most recognisable venues.
McLean said: "Is the Azteca on the bucket list? Of course, everybody's been talking about it.
"We've heard about the numbers that are going to be there – it's something everyone will want to be involved in and I'm no different to that. It is an iconic stadium and to be involved in matches like this is why you want to play at this level. Although it's a friendly match it's something we will remember for a long time and it will be pretty special. We know how good Mexico are going to be. The South and Central Americans are always comfortable on the ball and we know they have some quality players."
There has been some criticism of the trip, given the number of withdrawals from Alex McLeish's squad and the absence of five Celtic players.
However McLean, who won his fourth cap in Lima, has only positive things to say about the end-of-season friendlies.
McLean said: "The longer tour has been excellent. It's always good to come away and represent your country. When you are in this environment, away from your club team-mates with a new group of boys,
"It's always good to see fresh faces and everybody has really settled in well. Everyone has made everyone else feel welcome. It's a good group of boys, and everyone is just desperate to show what they can do on the pitch.
"The other night against Peru was tough but we expected that.
"We knew what kind of match it would be, that they would have a lot of the ball and be comfortable in possession. It was a good test for us, a good workout. The atmosphere was excellent and it's games like this you want to be involved in.
"Mexico will be similar, it will be harder conditions but the opposition will be as good – it's something to look forward to and something everybody wants to be involved in."