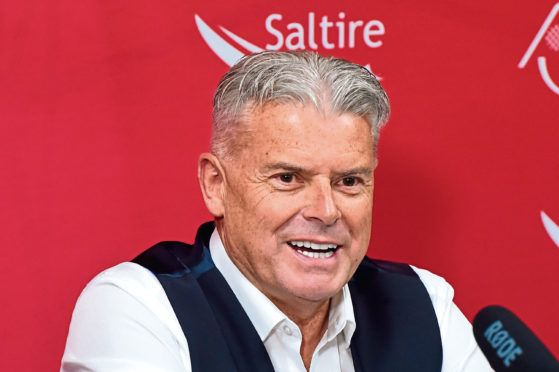 Dave Cormack has wasted little time in setting his stall out for Aberdeen's new future.
Now he wants to help Scottish football do the same.
The Dons chairman, who took over at the helm in December, has grand visions for improving Scottish football's standing on the European stage.
With the Champions League becoming an increasingly difficult prospect for Scottish clubs and uncertainty over whether, in future, it may become a de facto European super league, Cormack wants Scotland to set about carving its own path.
"Do we want to wait – and I don't just mean Aberdeen but Hearts, Hibs, Motherwell, Celtic, Rangers – do we want to wait for crumbs off the table of the kings in the Champions League, or do we want to work out our value going forward?" said Cormack.
"Look at the States. They have conferences and they're competitive."
Maybe the poor analogy is boxing, but if you've got a lightweight in with a heavyweight then there's a fair chance a heavyweight is going to win. But there's nothing wrong with being a world champion as a lightweight.
"Why can't you have, for example, a cross-border competition that complements domestic football but is a fair fight.
"The third Europa League, the conference, is a good attempt at that, but we can't just wait for what's going to come down the line."
Cormack outlined his plans last week to revitalise the matchday experience at Pittodrie, improving the atmosphere during the game and offering entertainment for supporters.
Dave Cormack explains his latest plans for improving the match-day experience at Pittodrie on our Northern Goal podcast:
Being based in America and having close ties with MLS franchise Atlanta United has given Cormack food for thought in how the landscape could be reshaped.
American sport uses salary caps to ensure teams cannot spend more than one another, while they are split into conferences based on their location.
Not all ideas are easily transferrable, admittedly, but it is a starting point.
"That's what America does exceptionally well," added Cormack.
"They've got competitive leagues.
"They've got wage caps, drafts and not every year does the same team win.
"If we tried to introduce a £10 million cap on wages in Scotland there'd be a few teams, two in particular, that would have a problem with that.
"It could be we play 30 domestic games and the other games are played, for those that are high enough up the table, in Europa kind of leagues."