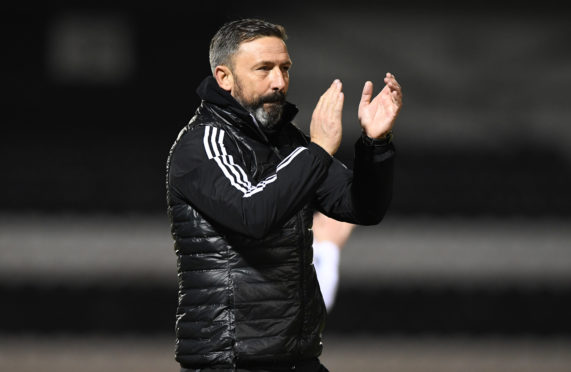 Aberdeen manager Derek McInnes believes Uefa are wrong to warn leagues that they could lose European places if they call the season early.
Uefa issued a letter to members after Belgium became the first country to cancel their championship due to the coronavirus crisis and declared Club Brugge as champions.
A full board meeting of the SPFL is due to be held tomorrow when the 42 clubs will discuss the possibility of declaring the season over with it looking highly unlikely any football will be played in Scotland before June.
McInnes said: "Uefa have to keep the financial pot going and because of that they have to be giving it every chance.
"Obviously there has been talk of people being denied European football.
"They obviously have their reasons for giving out that message, but it's clear that all clubs and nations won't be in full agreement.
"Uefa are trying to demonstrate the power they have and are encouraging people to hold firm and not make knee-jerk reactions.
"But when it comes to the practicalities of what next season is going to look like then I think each federation should have the right to make these decisions without fear of punishment."
The Aberdeen manager believes the SPFL must be close to deciding the fate of the country's top four leagues.
McInnes admitted he can see "a lot of common sense" in declaring Celtic, who are 13 points clear with eight games remaining, as Scottish Premiership champions, but hopes the season can be played to a finish.
He said: "It's just common sense that the longer it takes to come back the less likely we are to finish the current season.
"I think everyone in football would want that, but the longer it goes on the bigger the pressure there is because of a variety of reasons.
"Nobody knows what is going to happen.
"As much as we are all missing football, it's not the most important thing in the country right now.
"We are passionate about football, it's our job and as fans it's the passion you have, but until the virus has been dealt with football is secondary. It looks like we will be on lockdown for another seven or eight weeks at least and even then we don't know if we'll go straight back to our normal lives.
"I'm not sure we will just overnight have people sitting in football stadiums in close proximity to each other once again. I think we have to be realistic about it.
"We want to be back as soon as possible, if we are back in June or July for training and then playing in August that would be the best case scenario. But who knows?"