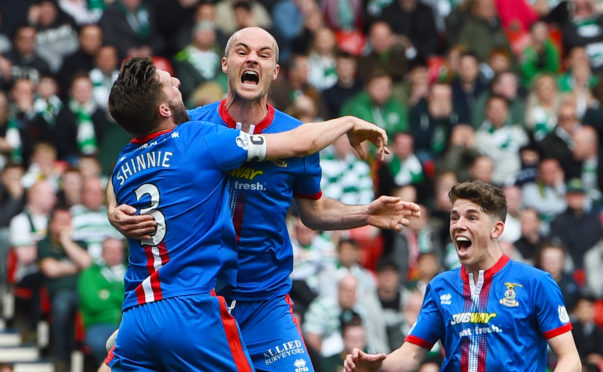 David Raven's unco-ordinated jump. Marley Watkins bodying Virgil van Dijk. THAT handball. It was the Scottish Cup semi-final of April 2015 when Inverness beat Celtic 3-2.
The David-floors-Goliath narrative was already well-trodden in this fixture. The years 2000 and 2003 saw to that.
But there was distinctly more at stake on a sunny Sunday at Hampden Park than a mere giantkilling.
Celtic, flawed as they were under Ronny Deila, were still the best team in the land. Van Dijk and Jason Denayer were seemingly unpassable centre-backs, Thames barriers stemming any flow of forwards. Stuart Armstrong, Kris Commons and Stefan Johansen plundering goals from midfield. Leigh Griffiths doing Leigh Griffiths things. That's before you mention Scott Brown, Callum McGregor and James Forrest, cornerstones of the post-Deila era.
Inverness were the hipster's choice. Making hay while Rangers, Hearts and Hibernian were out of the Scottish Premiership sunshine, they had become an attractive, consistent outfit under John Hughes. His doctrine of aesthetically-pleasing football was religiously adhered to, putting the Caley Jags in halcyon territory of a potential cup and European double.
Their run to the semis had been fairly pedestrian. They disposed of St Mirren 4-0 in a replay, squeezed past Partick Thistle and had Danny Devine to thank for disposing of Raith Rovers. Celtic were the inevitable big fish that was going to come across their path at some stage.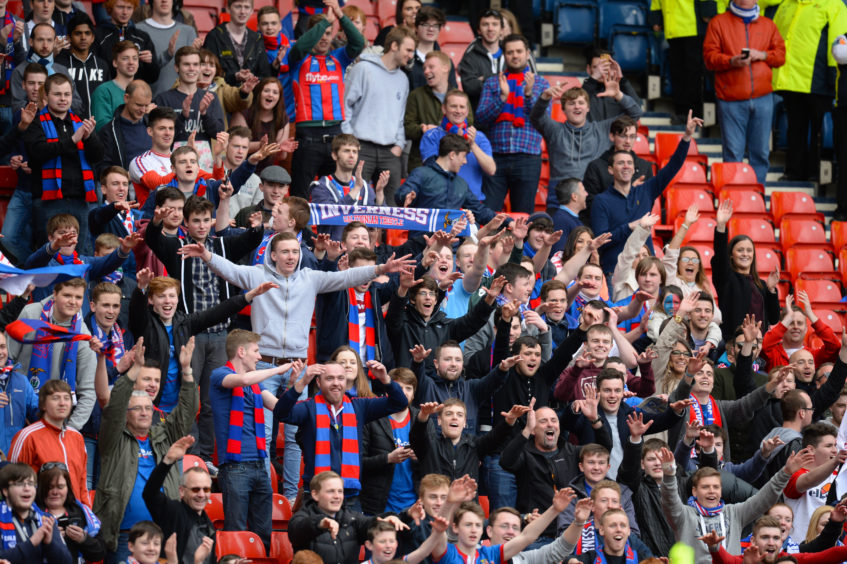 The first exchanges were a glimpse into that less popular cinematic release: Ryan Esson Versus The World. Thrust into the starting role after the unfortunate Dean Brill re-injured his knee, Esson beat away efforts from Johansen and Griffiths, the latter of which led to a meltdown of Vesuvius proportions.
Josh Meekings clearly handled the ball. He admitted as much after the game. Everyone in the ground could see it – apart from Steven MacLean and his linesmen. Anyone not of a hooped persuasion, I imagine, found it hilarious. Celtic were incredulous. If spotted by officials in real-time then inevitably, a penalty is awarded and Meekings may be sent off.
Celtic did get their goal before half-time. Van Dijk's free-kick cannoning off the right-hand post with the thud of a ninth-inning home run gave them their half-time advantage. The die could have been cast there for Inverness; feisty underdog eventually quelled as their luck runs out.
But MacLean was to increase his popularity further with Caley Thistle. A Celtic corner was jabbed away by Ryan Christie, putting Watkins in a foot-race with Emilio Izaguirre. Watkins charged beyond him but then careered into Craig Gordon. MacLean was on the spot, dishing out the red and sending a shudder up Lukasz Zaluska's spine. The substitute goalkeeper came on, dived out of the way of Greg Tansey's penalty and gave Inverness the proverbial shot in the arm.
Watch the full highlights from Inverness' win here:
Even with Celtic having 10 men, you never felt it was Inverness' tie to lose. It just was not the way; the Old Firm always wins. But Graeme Shinnie, a towering figure in a diminutive package, dragged his side forward with the leadership Hughes no doubt craved. Watkins was incredible, deployed in a striking role to use his pace and power against van Dijk. To this day, Caley Thistle fans still drag up this exchange as a solitary blemish on van Dijk's otherwise imperious record.
When Eddie Ofere screwed the Caley Jags in front for the first time, the belief started to stir. John Guidetti's free-kick, evading Esson's grasp, flattened the optimism immediately. Remember the golden rule: the Old Firm always wins.
When Nick Ross sclaffed high over the bar following Zaluska's Indiana-Jones-bouldering of Ofere, you feared Inverness' chance had gone. It would go to penalties and Celtic would win. Inevitable.
At half-time in extra time I had texted a friend, half-jokingly, but half in blind fantasy, that it was "tailor-made for a Disco Dave screamer". This is not some after-the-event smart-arsing. I still have the text.
Seeing his angled finish from Shinnie's cross with roughly four minutes remaining is the only time I can claim to have been lost for words in a press box. The impossible had become probable.
A more deserving hero you would not have found. Uncomplicated, dependable, affable. David Raven was the cult-hero in waiting. It just took this moment to cement it.
Celtic's wrangling over the non-Meekings dismissal overshadowed the result but ultimately, Caley Thistle were vindicated with a Scottish Cup triumph. A fitting dessert to that sunny Sunday in April.
Caley Thistle hero Greg Tansey describes the celebrations after Inverness went on to lift the Scottish Cup against Falkirk: